Kenya has a longstanding reputation as a top destination both in Africa and the world. That is true not only because of its abundant wildlife and landscapes but also because of its highly ranked accommodation options. Today we are letting you into the world of exclusive luxury lodges you thought were only in your wildest dreams. These top 10 luxury lodges in Kenya don't stand out only because of their amenities but also because of the eclectic mix of traditional and modern feels.
Apart from unrivaled excellence in these luxury lodges, a stay also guarantees exemplary service. They also offer extra amenities. For instance,
some have butler services
In no particular order, here is our list of top 10 luxury lodges in Kenya.
1. Segera.
What can trump a getaway in a 50,000-acre lodge in the Savannah? Add to that luxurious villa complete pool and lounge. Not good enough for you? How about an outdoor nature bath, deck, and lounge? That is Segera for you.
Top class accommodation in the wilderness! The lodge also offers daily day and night game drives. A perfect chance to spot the abundant game including giraffes, monkeys, elephants, buffalo, hippo, zebras, and many more. A 2-night package will cost you $4700` inclusive of flights and meals.
2. Cottars Camp
Cottars Safari Camp is one of the most famous luxury camps in Africa. This award-winning accommodation sits in the vast Masai Mara. It is a property of the Cottars family, renowned for bespoke safaris. The popular 1920s camp is travel wonder; traversing up to 7608 acres of a private conservancy. It is also in close proximity to the Serengeti reserve.
The camp comprises elegant villas, tastefully furnished with a minimalist feel of the golden era. It has a stay option for up to 12 guests. What's more, there is an exclusive swimming pool too. Regardless of whether you need a romantic getaway or a game stay. You can certainly achieve both here. It is easy to see why it is a favorite.
3. Giraffe Manor
The Giraffe Manor is a top luxury lodge for international tourists. Its popularity can be attributed to a boutique hotel feel reminiscent of the 90s feel. In addition, its resident tourist-magnets the Rothschild giraffes make for an authentic manor charm.
It is located within 140 acres of the lush Langata Forest. The thriving indigenous forest equally adds to the stately exclusiveness. Moreover, it blends softly with its manicured gardens and terraces. The lodge also offers a culinary experience up to its name. A giraffe can graciously interrupt a morning or evening meal. What a highlight for your stay?
Discover this earthy charm at a rate of up to US$3000
4. Mahali Mzuri
Mahali Mzuri is Richard Branson's mark of excellence in Kenya. It is nestled in the lush valley north of Masai Mara. The Safari camp is which loosely translates to "a good place' has rightfully earned its name. The picturesque exclusive tented camps are indeed a perfect balance of luxury and African Safari. This had to make it to the top 10 luxury lodges in Kenya


The camps are all distinctly styled. They are complete with an infinity pool, luxury suite, restaurant, lounge, bar, and spa. In addition, a stay at Mahali Mzuri earns you a taste of delightful cuisine, a game drive and scenic views of the Mara's rolling plains. Alternatively, slump back to a relaxing spa treatment in a tastefully decorated camp.
A stay at the camp is worth $1770.00 for a single rate per night.
5. Elsa Kopje
Elsa Kopje's reputation precedes it. To begin with, it is the winner of the Good Safari Guides Best Safari Property in Africa. In addition, it is a pacesetter for ecotourism. But that is not all, Elsa Kopje magnificent beauty is not limited to its rugged design.
Its location in the Meru National Park vast lands makes it suitable for unmatched game and landscape views spanning up to 215, 00 acres. All of which can be done from the comfort of the outcrop on which the camp is built. Moreover, an indoor stay is further accentuated by the decadent décor, outdoor bathtub, and private house amenities.A package-stay in the Kopje will cost you up to Kes 42, 345 per person. Rates are season-variable.
6. Elewana Loisaba Lodo Springs.
In Laikipia, the Loisaba Camp stands in outstanding beauty. It is a top accommodation option for travelers. After all, the luxury Loisaba offers is impossible to pass for a discerning tourist. The stunningly decorated dining areas and lounges overlook the breath-taking escarpments.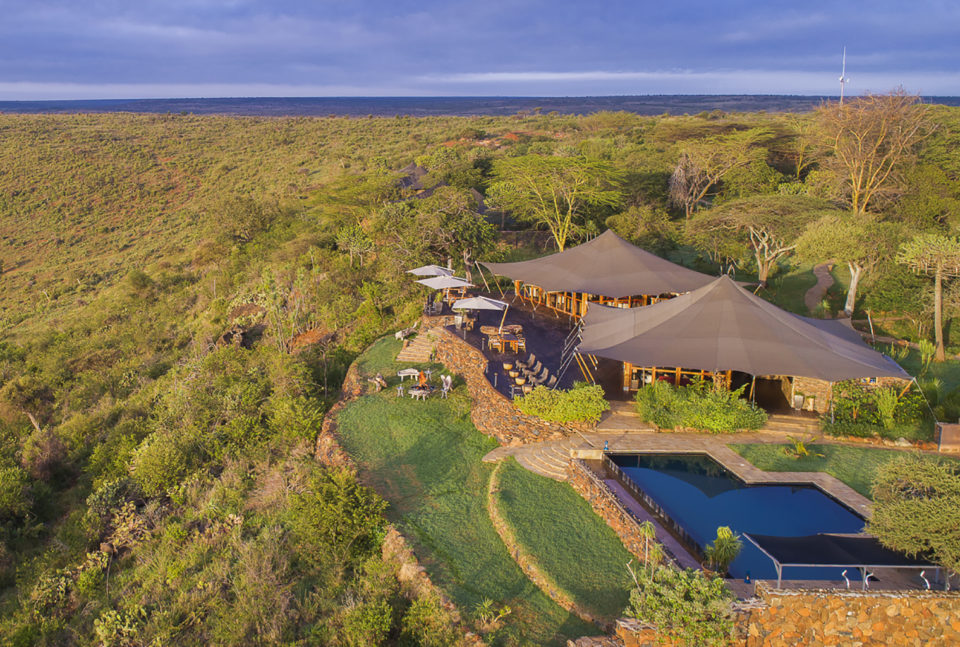 The tent architecture will add the thrill of camping. Apart from the sprawling landscape the 12 camps all ensuite, with double basins and shower. Family combinations are also available.
Rates for a stay here are $544 per person sharing.
7. Olare Mara Kempinski, Masai Mara
It is impossible to mention the top 10 luxury lodges in Kenya without Olare Mara Kempinski. It is a luxury right under a tented canvas. A 12-tented camp, for instance, is oozing the opulence synonymous with Kempinski. The tented bar and a swimming pool add to the elegance of the wilderness. What's more, sweeping views of the rolling wilderness visible from the compare just an option. Campfires, game drives and walks, horse rides, and balloon safaris are also part of what you can choose from.
In contrast, the lush green gardens will make you forget the shrub and dry grasslands around.
Excellent white-glove butler service is also assured .
8. Manda Bay
Along Kenya's stunning coastline is the intricate patchwork of Manda bay. A small lodge with a boutique feel, including the traditional thatch roofs of the coastal tribes. Besides, it is a 20-minute ride from Lamu. Consequently, guests can easily move around the town.
The bay borrows from the idyllic views of the coasts to add to the relaxed luxury. The bandas have en–suite bathrooms, hammocks, and beautiful interiors. Furthermore, there are uninterrupted views of the white sandy beaches. Expansive waterways are also open for an adventure.
Rates for two people sharing $385 for sea-facing rooms and $280 for garden rooms.
9. Mara Ngeche Safari Camp
Mara Ngeche is a Luxury safari lodge in the Masai Mara. It is conveniently located by the confluence of the River Mara and Talex. For this reason, guests have the best views. Shaded by the riverine forest, Mara Ngeche camp hosts only 10 guests. The guests, therefore, are assured of exclusive accommodation which allows a remarkable stay. Unforgettable sightings of hippo along the river are also a unique feature.
For this reason, the lodge is a favorite for guests looking to catch the wildebeest migration.
The luxurious tented camp has all ensuite amenities. It also includes a wonderful culinary experience besides balloon rides, game drives, and community tours. The guest service is phenomenal to make you feel right at home.
A stay will cost up to Kes 176,573 per night.
10. Sarova Shaba
Finally, our last entry in the list of top 10 luxury lodges in Kenya is the Sarova Shaba. The camp is the oasis of Samburu. It is located in the Shaba Game Reserve. The camp is built on the serene banks of the Ewaso Nyiro. Its camps, expertly decorated with a touch of Samburu culture and Modern décor. An imposing outdoor pool, flanked by graceful palm trees, additionally compliments the getaway feel of the camp.
Guests can relax at the shared lounge overlooking natural pools as well as panoramic views of the reserve. It also offers game drives in the reserve. A luxurious gateway is not complete with a spa treatment. They also include this specialty in their exemplary service.
A stay will cost up to Kes 13, 517 per night.
Which luxury lodge made it to your bucket list?
Kindly note rates mentioned are just for guidance and are subject to change. For inquiries, visit the lodge's sites.
---