When you think of Botswana, undoubtedly you think of safaris. But how much do you know about Botswana? Not much worry, not. We are here to take you on an iconic journey to whet your wanderlust appetite. In 2017, according to the World Bank, the number of tourists arrivals in Botswana was reported at 1,623,000.
Meanwhile, stick around for the top 10 things to do in Botswana that will get you planning your trip.
What to know about Botswana.
Botswana is a country in the southern part of Africa. South Africa, Namibia, Zimbabwe, and Zambia border it on all sides. As a result, it is landlocked. Its capital, Gaborone, is a metropolis set distinctly against its mostly unadulterated mainland. Here you will find most of Botswana's populace and tourists taking a break off their itinerary.
Crown Jewels of Botswana.
Botswana has unique geography, comprising 70% desert land, fossilized river-valleys, and undulating grasslands. Compared to most countries with deserts it has a unique mix of wet and dry. This further provides a perfect ecosystem for wildlife and tourism. It is well known for its wildlife safaris. However, there is more. Here are the top 10 things to do in Botswana.
Okavango Delta and Kalahari Desert.
The Okavango Delta and the Kalahari Desert are two of its most prized possessions. Similarly, they take up most of its mainland. The Delta is one of unparalleled beauty. The Okavango river flowing from Namibia flows through to the Kalahari, creating an expansive trough. The river hosts surrounded by wetlands on its edges. A flurry of activities takes place along its length. For example, wildlife go to drink on the wetlands on its edges. Further tourists can engage in camping, mokoro rides, wildlife spotting.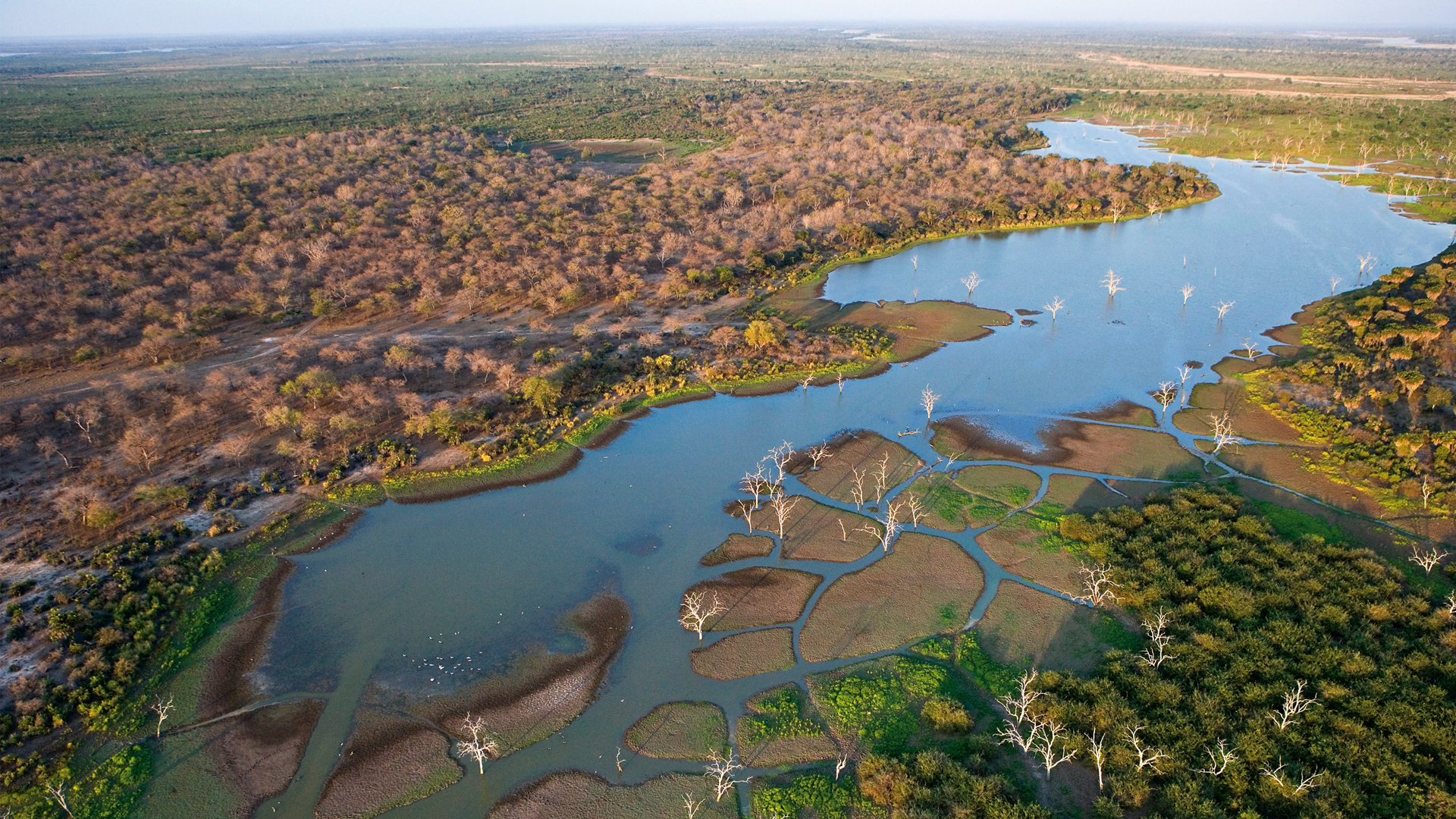 1. Camping in the Reserves.

The game reserves of Botswana are a peek of what lies ahead. The rich wildlife of Botswana, for instance, is on display here. Yet that is not all. The numerous parks that litter its mainland each have something unique to offer. To begin with, there is Moremi Game reserve, home to the Big Five. Second, there is the Chobe National Park, for viewing thousands of elephants.
You can take your adventure a notch higher by camping in its reserves, a stay you will not regret. Moreover, there is the Central Kalahari reserve hosting the San people in its expanse. Indulge in the options, Botswana offers its rustic traveler. A braai barbecue overlooking the expansive scrubs is just one way to do it.
2. Cruise down Chobe.
Looking to take a break from the high energy exploration of the Southern Land? How about top speed in the Chobe! Bring your luxury feels as you take a cruise aboard the speed boats of Botswana. The Chobe cruise is time for you to take a back seat and take pleasure in the beauty around. Cutting across the Delta basin, Chobe River is an oasis on the desert land.
Imagine a full board experience complete with cocktails, snacks, and company. Now top that with the splash of waves tossed around on a breeze. You know the vacation is calling!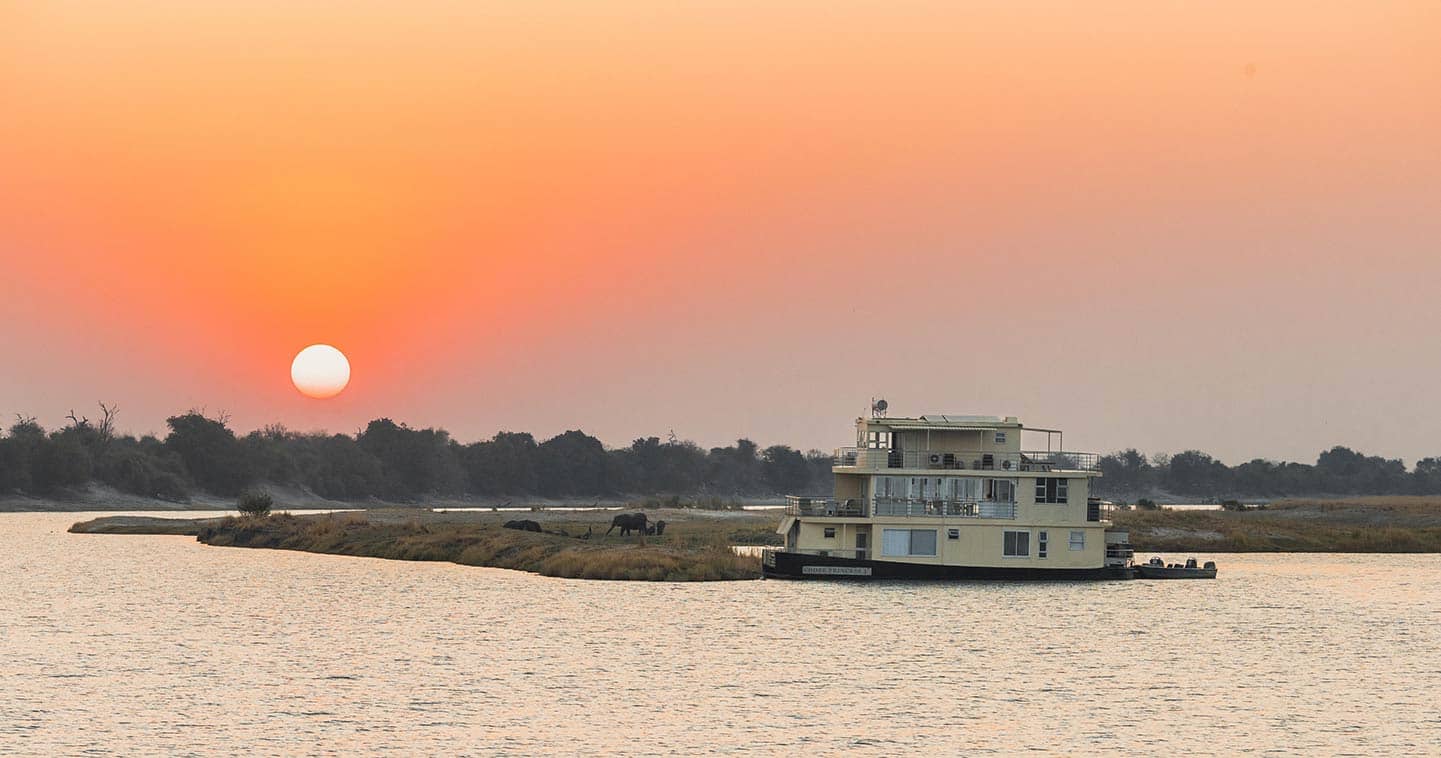 3. Take a 4 x 4 Safari.
Name a country synonymous with wildlife safaris and Botswana takes the crown. Abundant wildlife sprawls over the endless hectares of land. promises nothing short of a remarkable safari. Not only is it endowed with amazing wild but also a natural spread of terrain. Wander from reserves to endless thirst-land stretching to the horizons. Within a mile radius, you are likely to drive into a herd of grazing elephants, lazing lions, leopards, rhinos, buffalos name them.

And what better way to discover these uncharted lands than to take a self-drive on a 4 × 4. Challenge the land and yourself to an unforgettable experience.
4. Backpack to the wild.
The wild calls and you answer. There is only one way to unravel the mysteries of the wild. Take the unbeaten path! In this land there are several, and the journey is promising. Start from the intimidating expanse of the Delta, after that, head to the thirst land of the Kalahari. The treasure lies ahead.
5. Walk with the Elephants.
Botswana boasts an abundance of elephants. Whether you have set foot in its reserves or the borderless jungle, you will soon run into these beasts. A delightful animal to watch will draw you in with its mammalian tendencies. Marvel over its herd families or better yet walk with them on a normal day.
There isn't a better induction into the herd. Follow their tracks and learning of the stories of the jungle.
6. Spot wildlife on Horseback.
A horse-back safari is not an offer you get every day. The Botswana equestrians, however, have mastered the art of pleasure and adventure. Book with David Foot or Ride Botswana and enjoy feel the adrenaline rush with each gallop. Spotting the beasts at such a close range will add to your memory bank.
Talk about ticking off two items on your bucket- list in one go. No doubt this has to be one of the top 10 things to do in Botswana.
7. Quad- bike in Makgadigadi.
Certainly, a quad- bike race is exclusive of a country with desert-scapes, and Botswana is no exception. Although not boasting massive dunes of its border country, Namibia, it promises an adventure of its own. Enter Makgadigadi, an ancient lake presently a salt pan sets the scene for a desert rally. It promises an adventure of its own. Enter Makgadigadi, an ancient lake, presently turned salt pan sets the scene for a desert rally.
An adventure is made of such! Fun and games are the norms here. Tracking the white-washed land.
8. Balloon over the Delta.
The glory of the Delta rises with the morning sun and sets along with it. A date awaits in the dawn, step aboard the hot- air balloons and rise with the dew. Close to the skies, a breathtaking day awaits. Perch above the backdrop of the sunbathed skies. Peer down below and the spread of awe-inspiring terrain lazily waking from its sleep.
Spot the early animals, rousing in their wake another day for survival. Then sit back and sip the goodness of Botswana as you glide down for more wonders.
9. Glide in the Marsh.
Nothing quite compares to a cruise down the marshland of Chobe. The splendor of Chobe River is best experienced by a glide down the unassuming water. As a matter of fact, a dug-out canoe slowly glides through the reeds offering you unrivaled sightings of wildlife in their natural element. The motor-free canoes are noiseless, allowing a serene cruise. A cocktail in hand, eyes on the orange-red horizon. It is not uncommon to spot elephants bathe at river edges, lions lazily perched on the trees.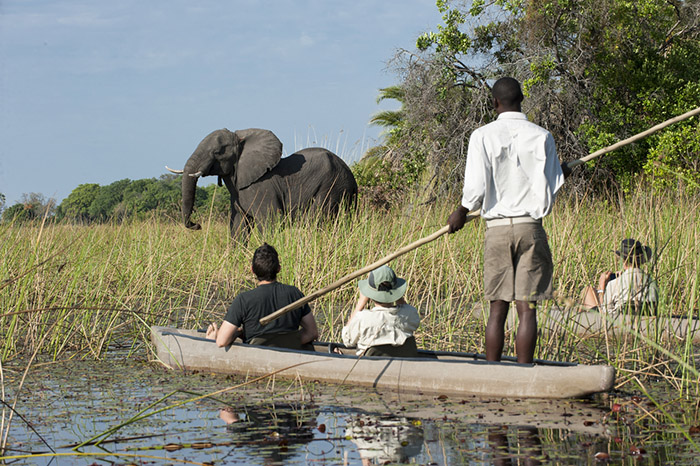 10. Walk with the San.
Take a dive into the local culture of Botswana tapping into the San. The San are an indigenous tribe, one of the 8. Most importantly, the San are known for the distinct click sound that is such a delight to listen to. They are one of the few still practicing their culture.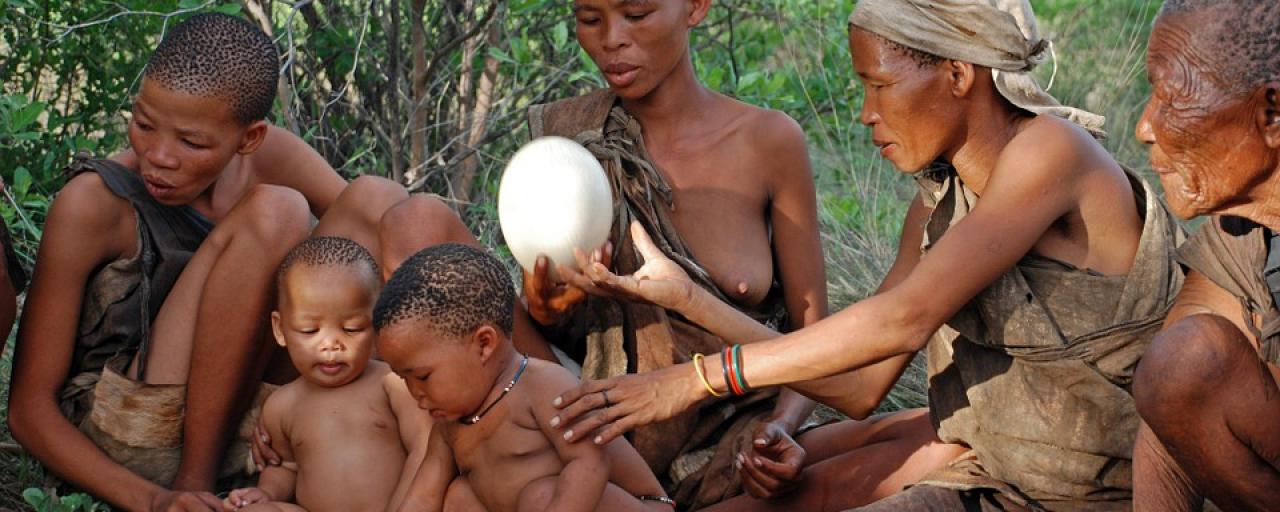 In addition, the San are a subject of deep fascination. First, they are among the oldest inhabitants of Africa, and some still practice their nomadic bushmen lifestyle. What better way to learn than to walk with them, go for a hunt, or better yet stay in their traditional kgotla setups. Arrange for this walk and learn the rich history of Botswana.
Have you been to Botswana? Let us know other activities that you feel deserve to be on the top 10 things to do in Botswana.
---