Neatly burrowed in the pockets of Kagio; Kirinyaga county, is the newly opened enchanting Abai Lodges. Its entry into the market has set both locals and visitors' tongues wagging as they mesmerize over the facility that they did not know they needed so bad. I did not understand what the hype was about until I recently set foot at the property, and I am confident and happy to report that Abai Lodges is the beautiful girl she thinks she is.
A needle in the haystack
If you are an avid Kenyan traveler (for either leisure or business) who prefers to stay in hotels, you'll agree with me that finding a stand alone modern hotel, with a sizeable bed capacity, conference facility, events ground, an Olympic sized swimming and to top it all up a gym, spa and sauna in rural Kenya is a hard find.
Now imagine, getting all these then topping it up all with excellent customer experience! Well, that sums up what Abai Lodges is bringing into the market.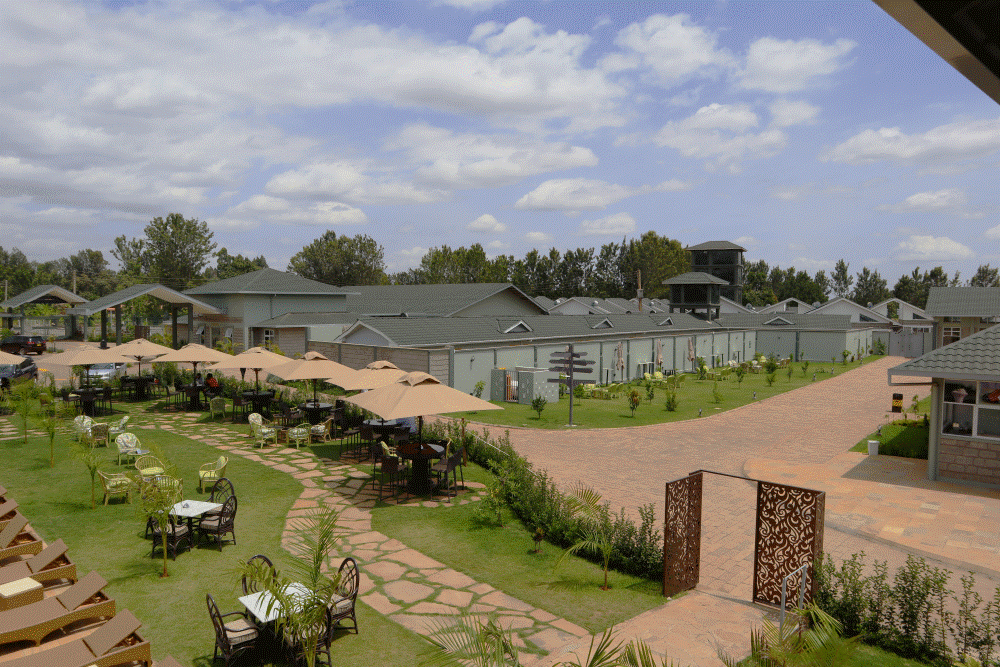 Getting there
Abai lodges is located in Kirinyaga county, Kagio, off Kagio-Kutus Road, 7km from Sagana town and approximately 98km from Nairobi. Apart from the ongoing construction on the Kenol-Sagana road, the route is an easy one and on a good day when traffic is light, then a trip to Abai Lodges is approximately one hour long. There is sufficient billboards and signage along the way so getting lost is not an option.
The entrance into the world of Abai Lodges starts right from the effectively guarded hydraulic gate, to a lovely aesthetically appealing water fountain outside the reception, into a wide glass door that leads to the main entrance. At this point, it is impossible to tell what exactly lies under the jungle green roofs and behind the teal grey walls of the property.
Check-in
A warm welcome awaits at the reception. The theme at the reception is that of coffee brown thin wooden planks on the wide reception desk and on the upper end of the wall close to the ceiling, against a backdrop of a coarse-textured baby pink colored walls. It is impossible to miss the gigantic, golden three tier chandelier that hangs delicately from the heart of the ceiling and its matching wall brackets.
With such intricate details while sipping the freshly-squeezed welcome juice you hardly notice the time fly by as they process your check-in.
The air at the reception smelled of sandalwood with a nice blend of the sound of relaxing smooth jazz instrumentals in the background. I could stay there for a while, but my curiousity wasn't going to allow me. I wanted to see everything else.
The rooms
There are three types of rooms to choose from at Abai Lodges; the executive suites, the deluxe suites and standard rooms.
The Executive Suites
These are self-contained, tastefully finished, one bedroomed units. The main area is exquisitely furnished with high-end sofa sets with a divan, a cute four-seater dining table and a coffee table that sits immaculately on an off-white fluffy floor carpet, and a 43-inch smart TV.
The suite has a kitchenette, a visitor's washroom and a master-ensuite. The feeling imbued while staying at the executive suite is that of privacy and class.
The sparkle and shine of the polishable surfaces was a definite plus for me. Not a single stain or fingerprints were spotted.
The colorful wall hanging above the bed, artistically broke the monochromatic brown theme of the room.
Everything sat perfectly in its spot. The soft shades of mink and blossom paint harmonized the entire look of the room's interior.
If you ask me, you already know the type of room I would settle for.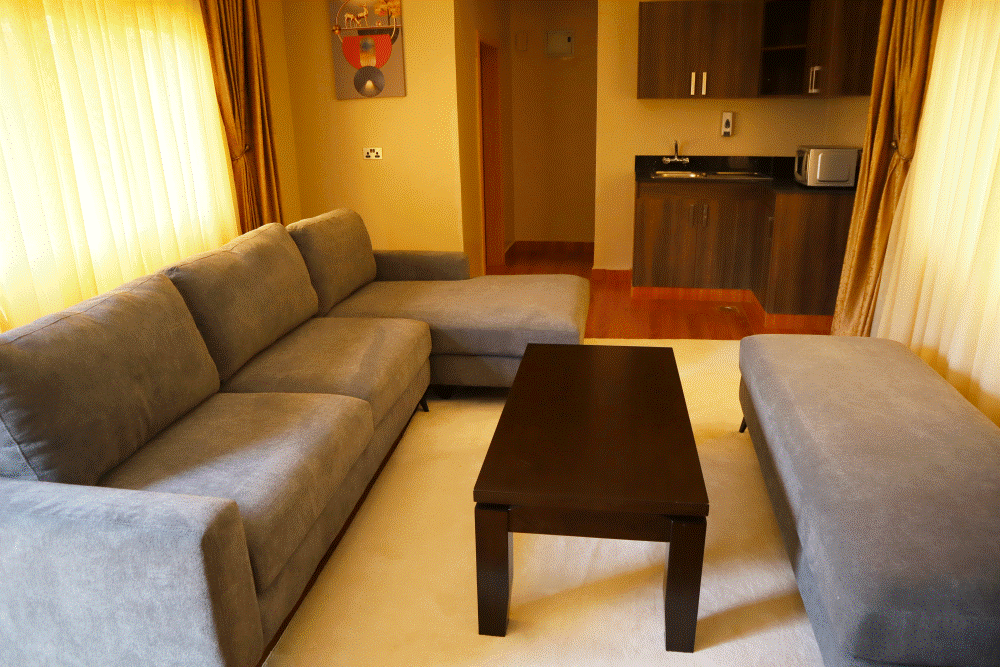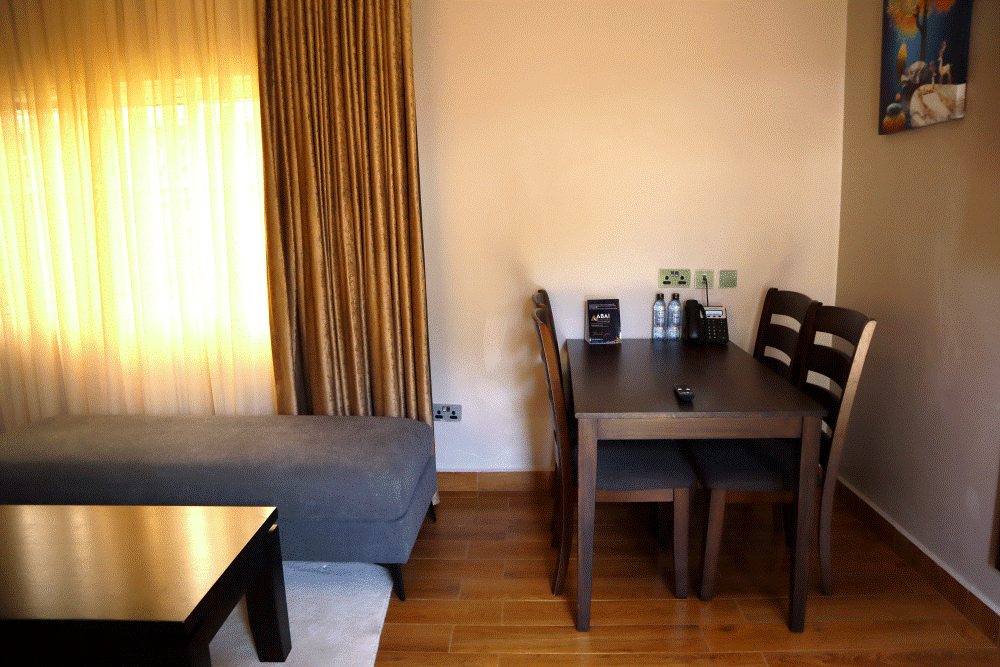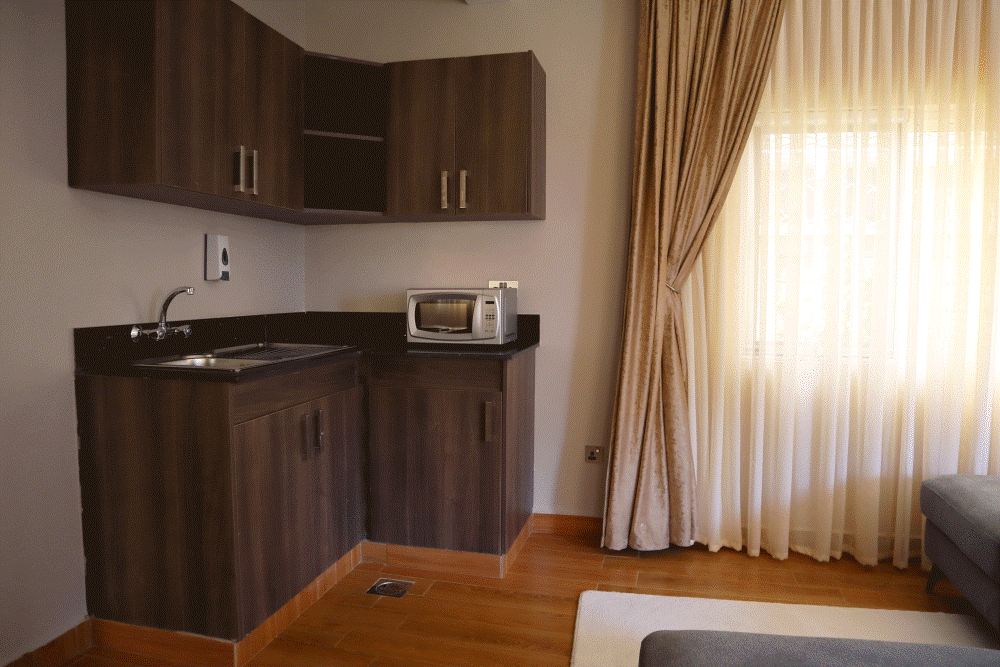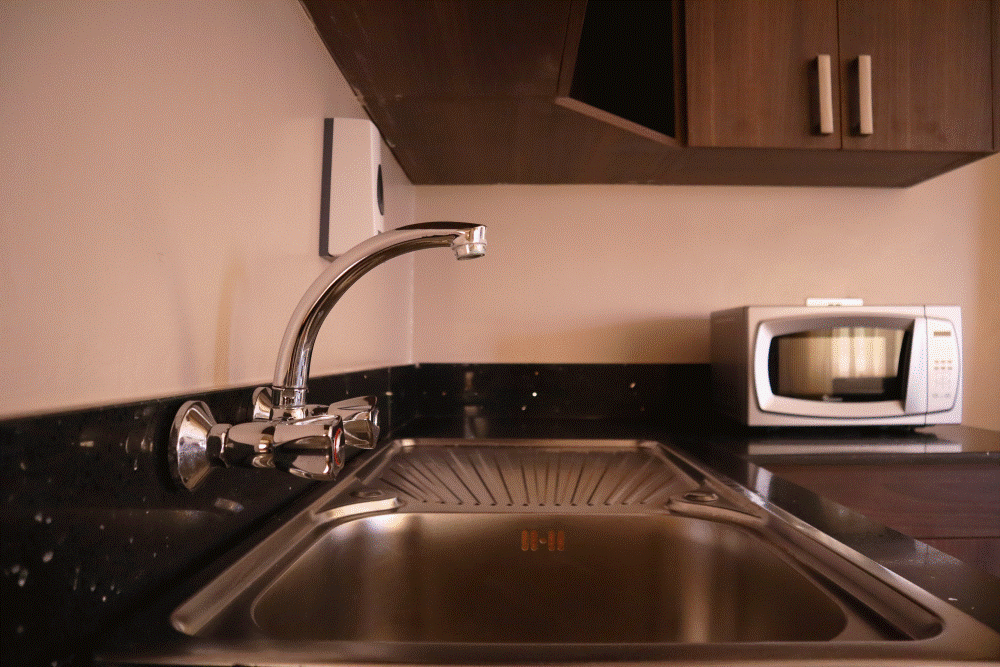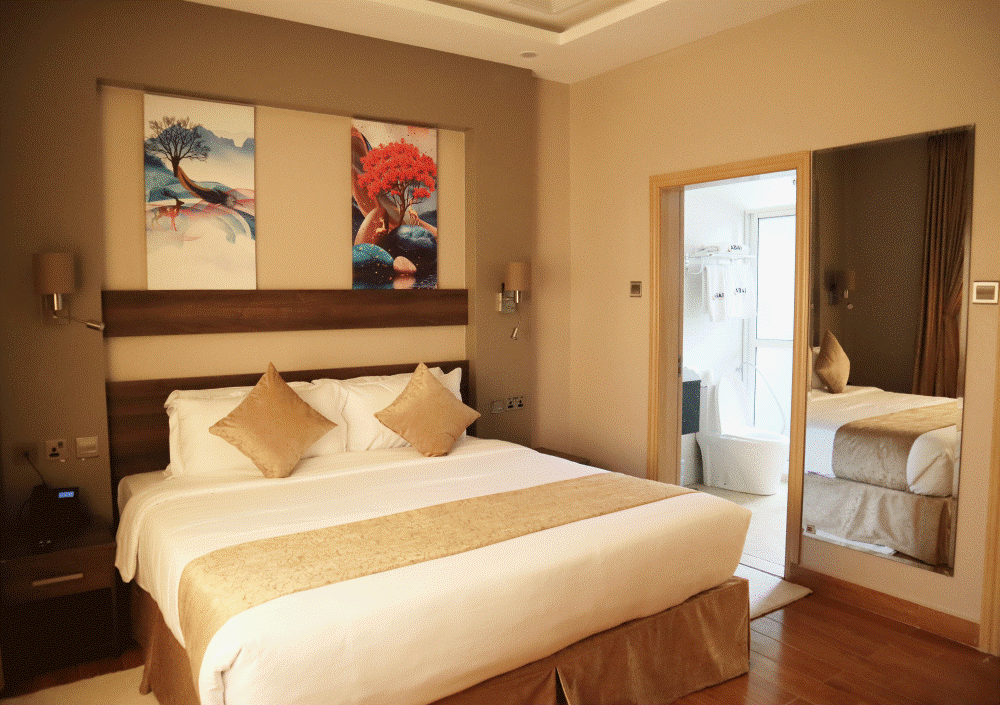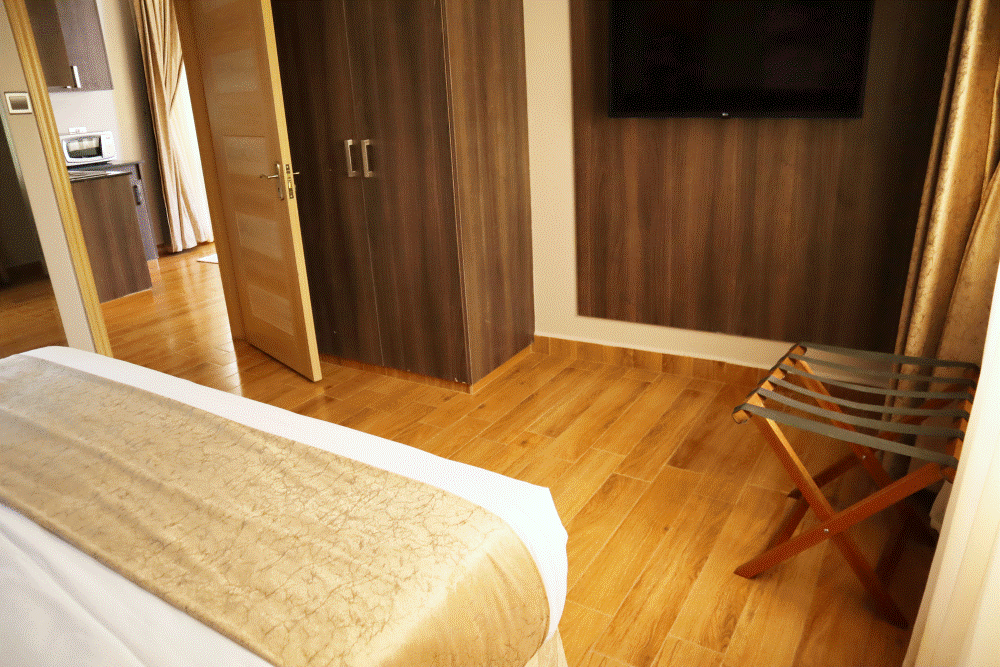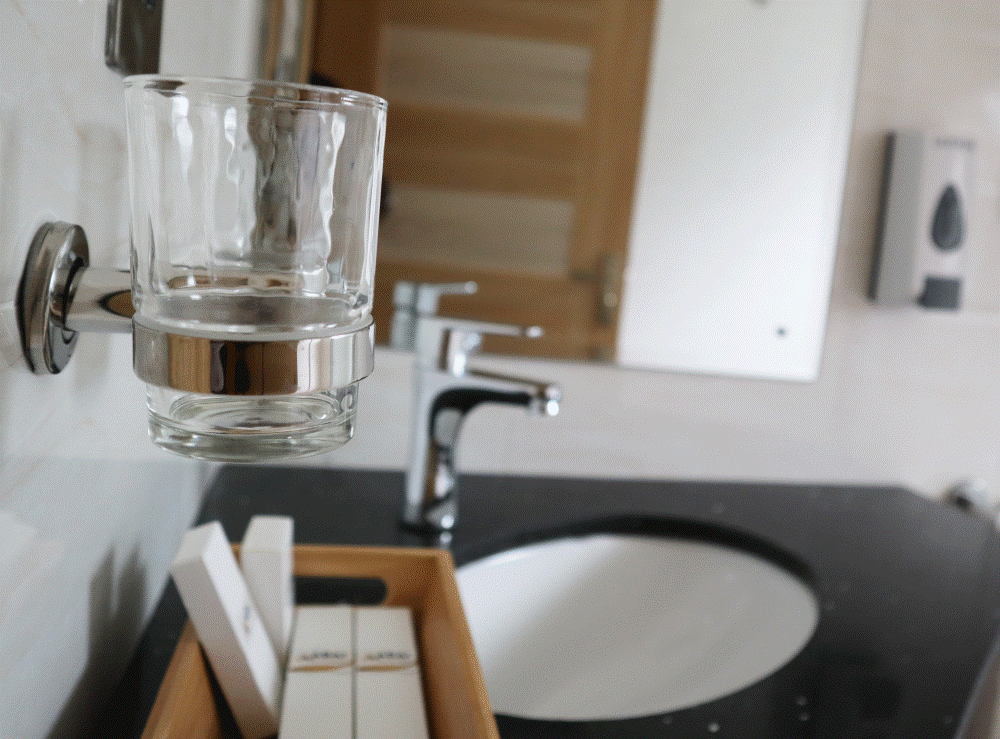 Deluxe rooms
These are the most popular rooms at Abai lodges. They are spacious, stylish, have big windows and with a modern finish.
One end of the room next to the wardrobe has a huge end to end mirror, below the mirror, is a black galaxy-granite work top study area for those of who like to work while traveling.
You can also fix yourself coffee as you enjoy your stay in the room. I totally loved the mahogany coffee table set with matching arm chairs puffed with beige cushions.
The bathroom area is small and intimate with a separate bathroom cubicle.
These rooms are very private with each of them having its own gate and a private garden. If you are big on privacy, then consider Abai Lodges as your ideal destination.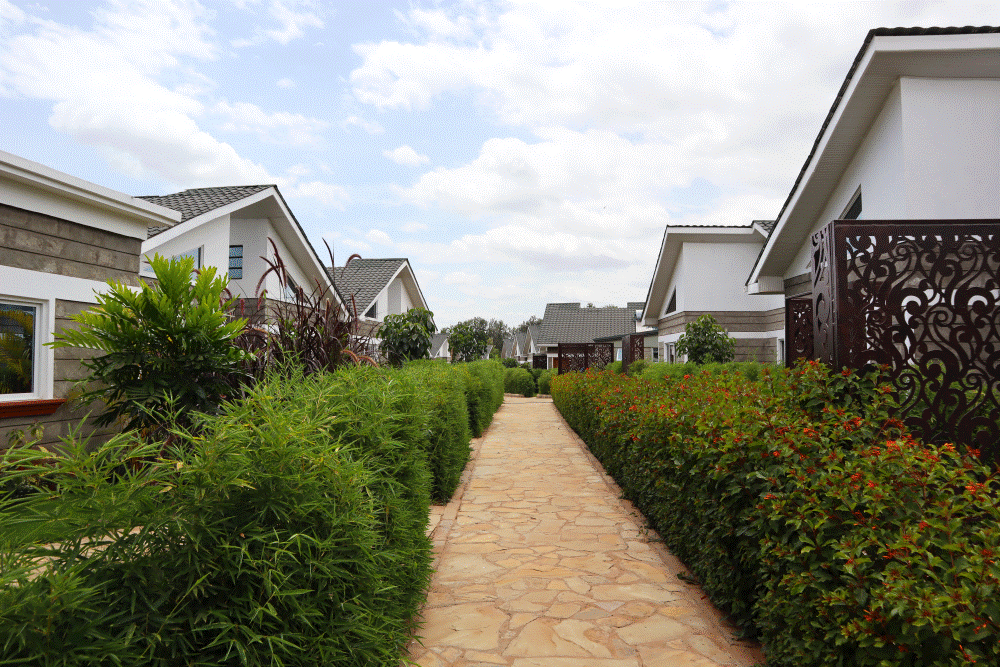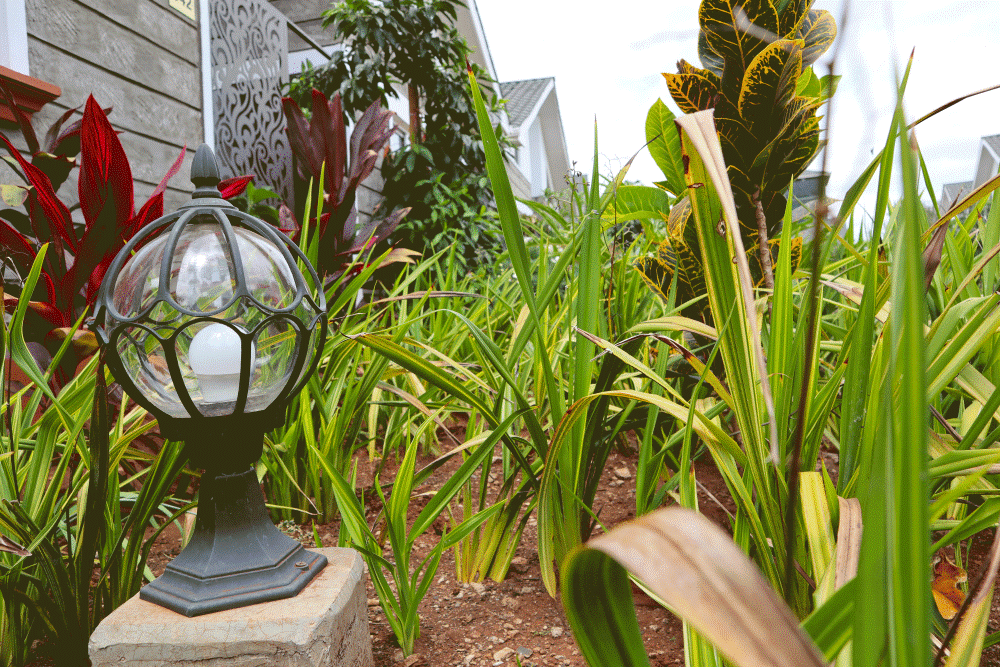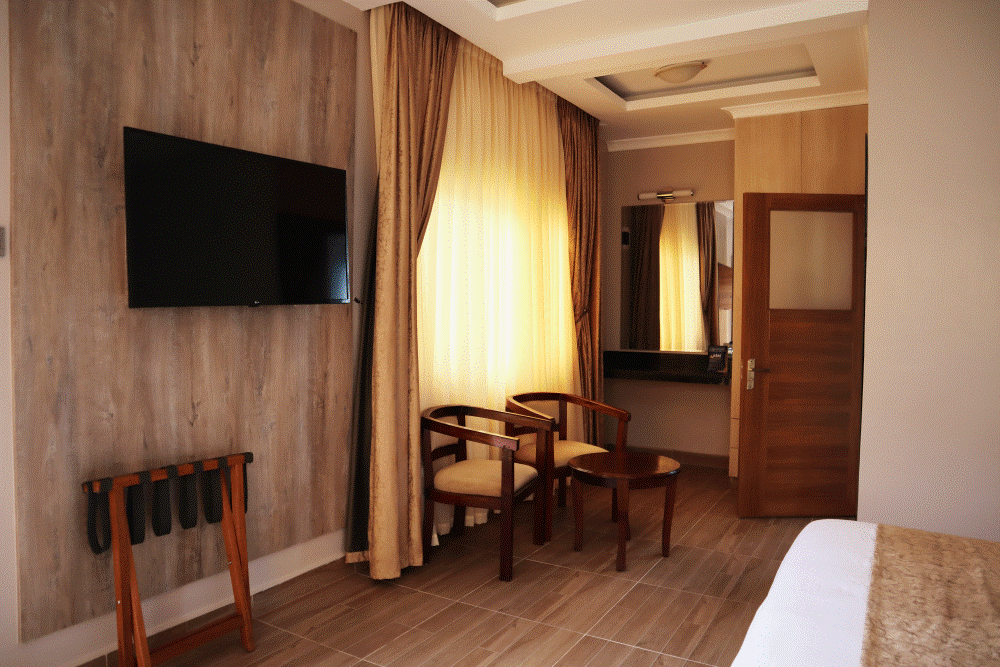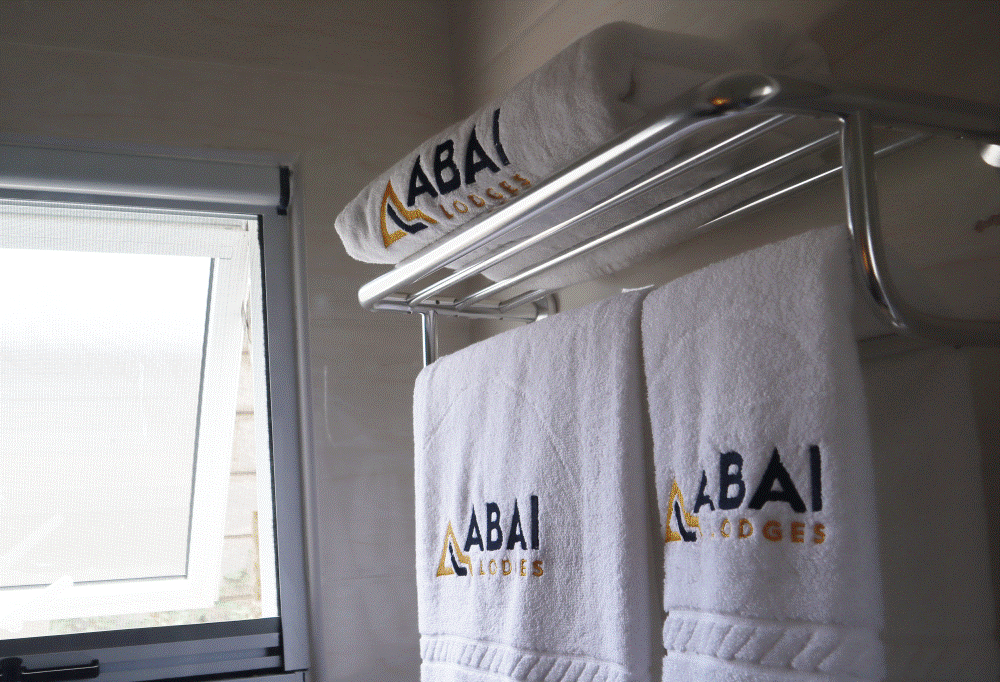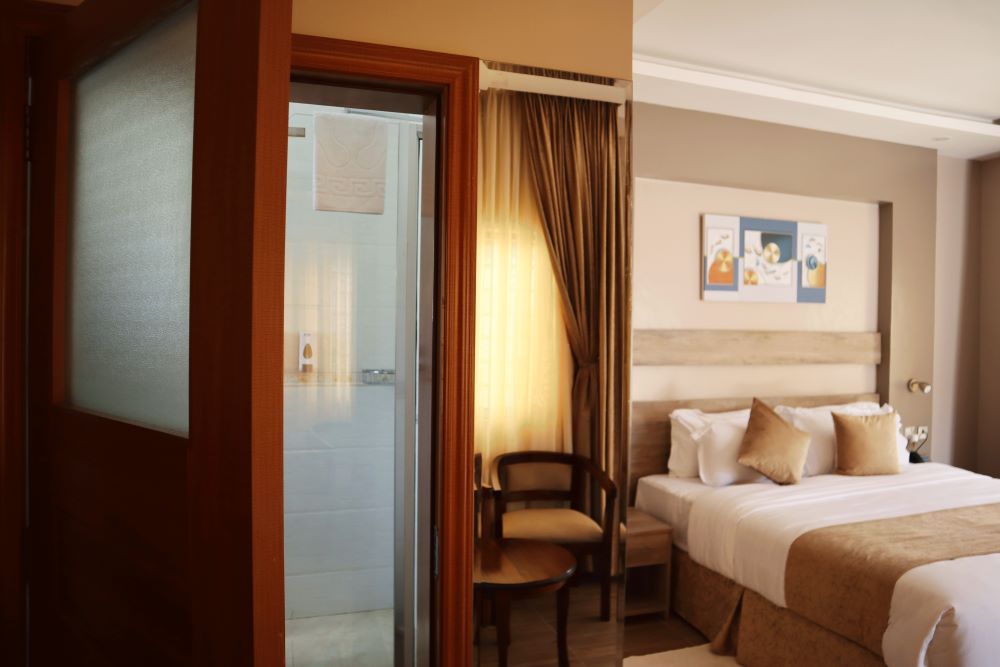 Standard rooms
If you want a smaller room with the exact same taste in finishing, then the standard rooms are you best bet.
Secluded in their own space, these standard rooms each has a 'cubicle style' bamboo fenced compound, that still offers the much needed space and privacy.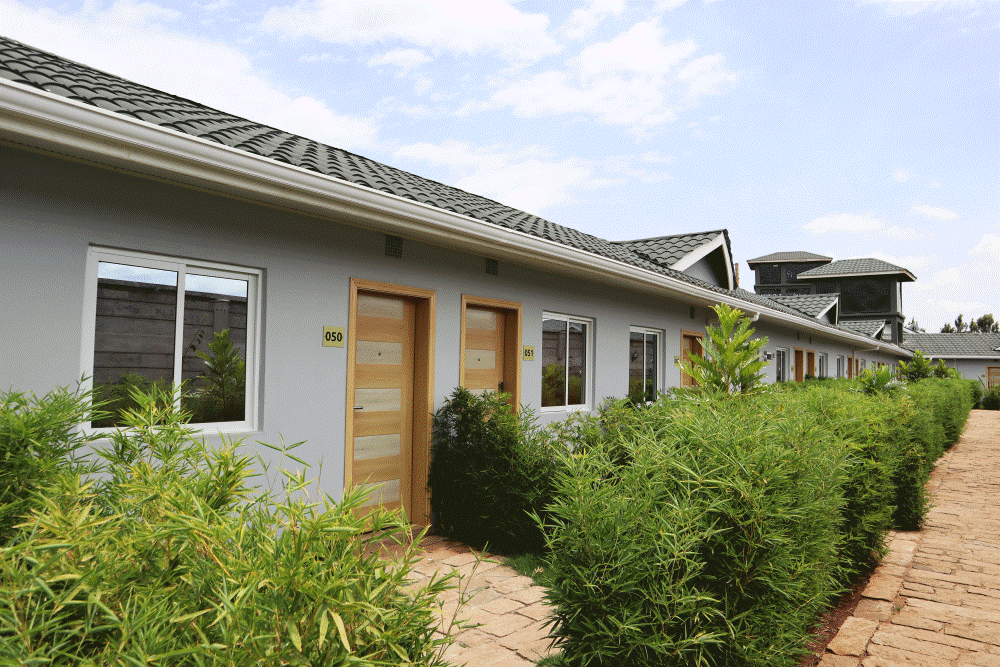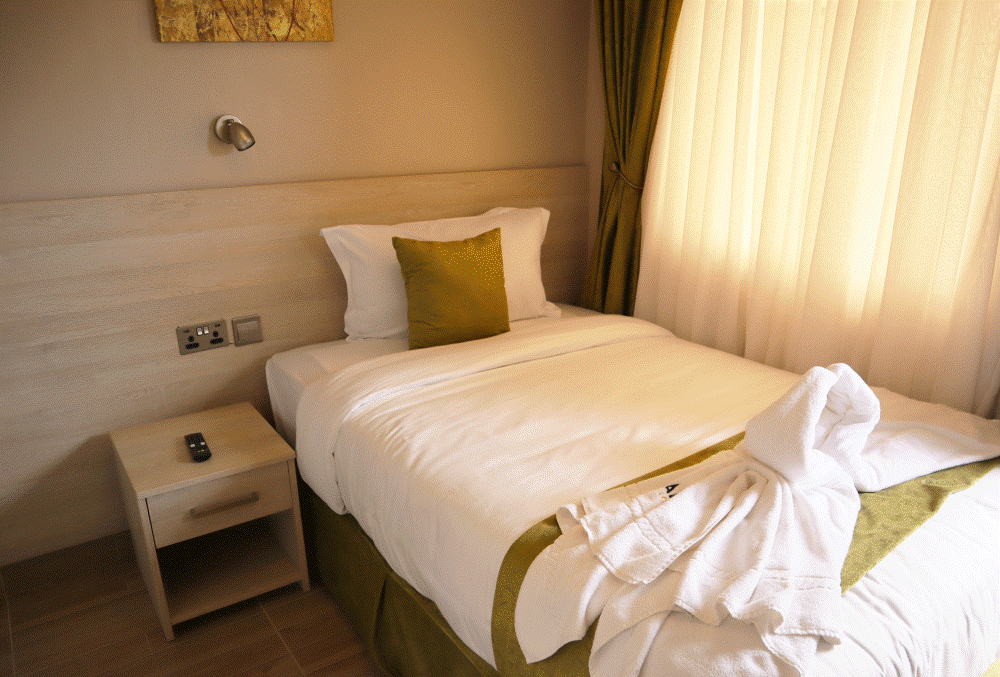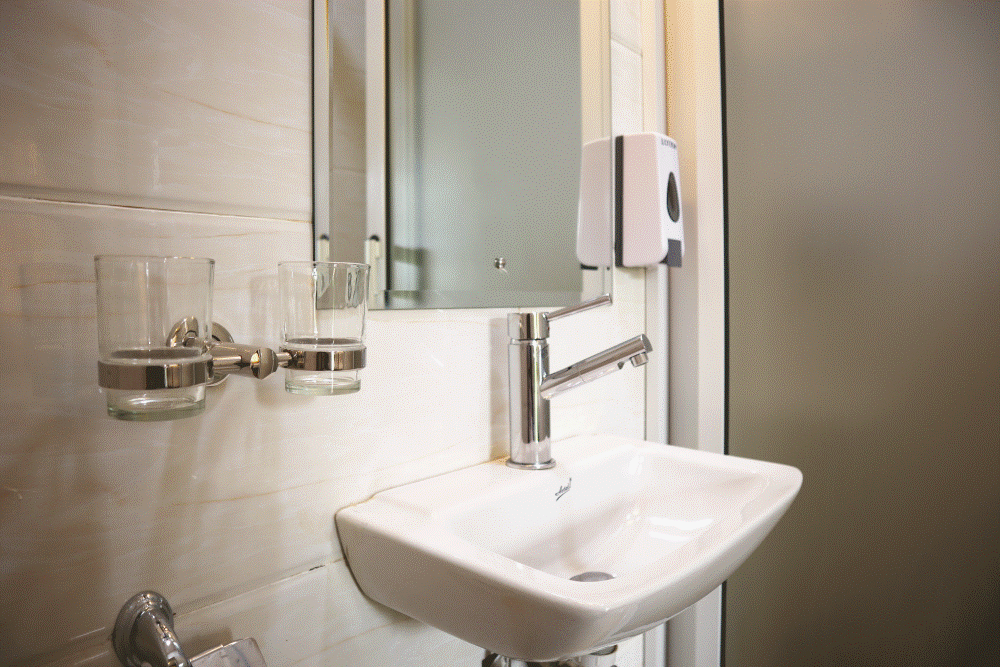 If you like to travel solo and enjoy a luxurious accommodation on a budget, then I highly recommend these rooms.
Food and Entertainment
One thing about Abai Lodges is that you have a choice of where you want to enjoy your meals and drinks from. This can range from the pool side restaurant, the garden sitting space, the main bar, the private cubicles, the main restaurant to your room.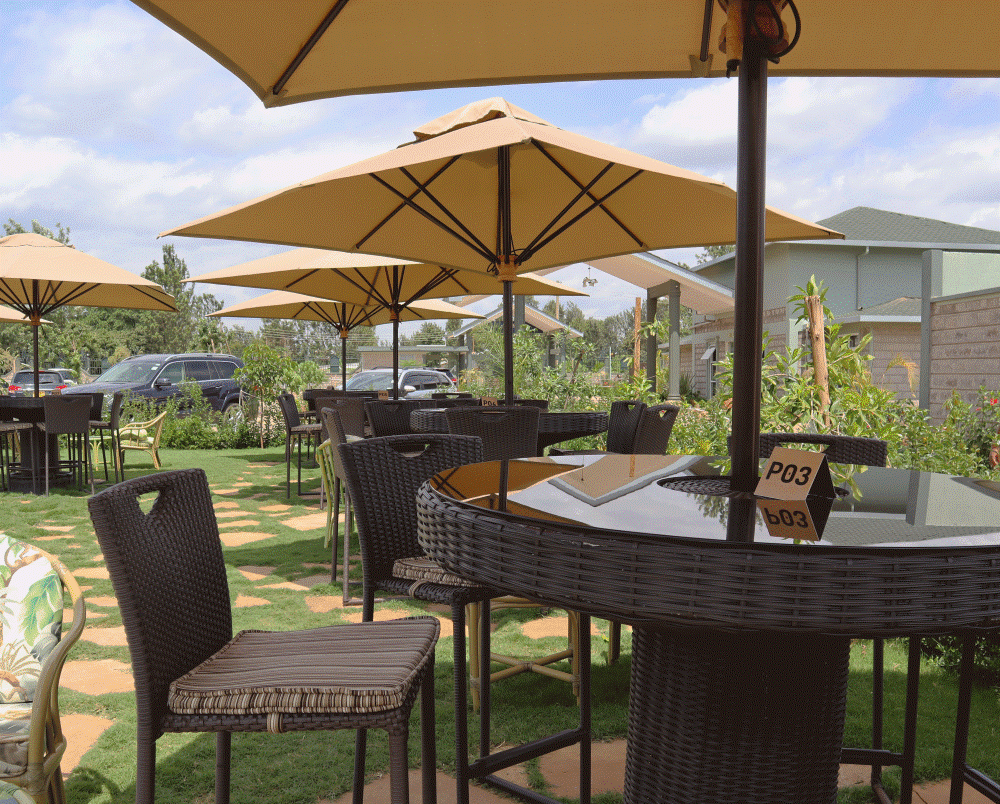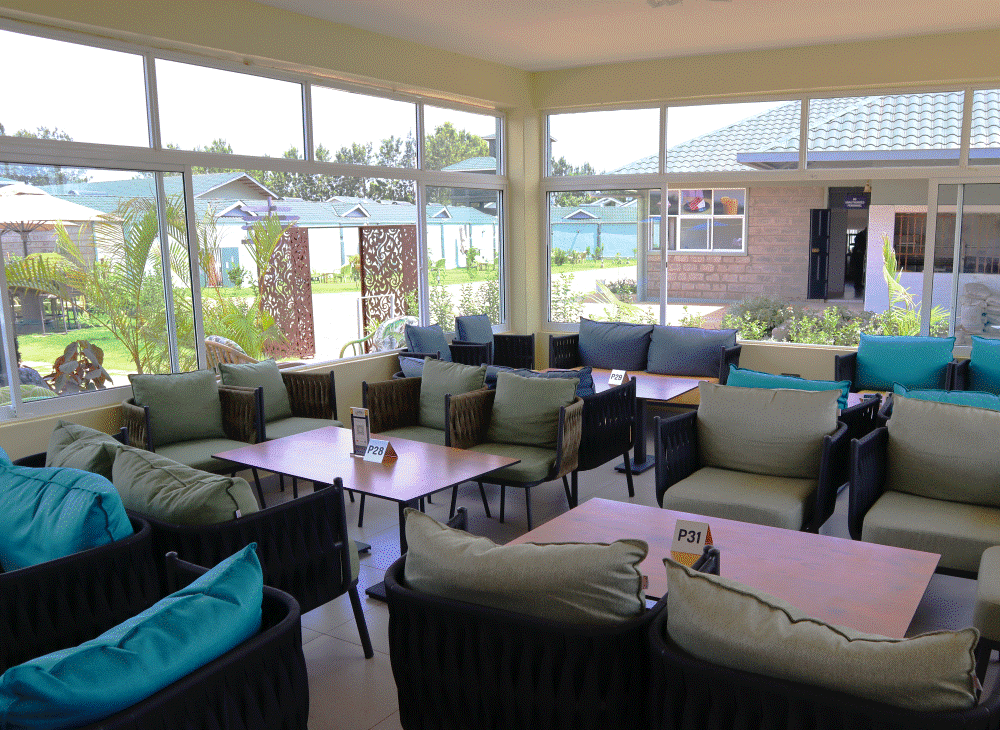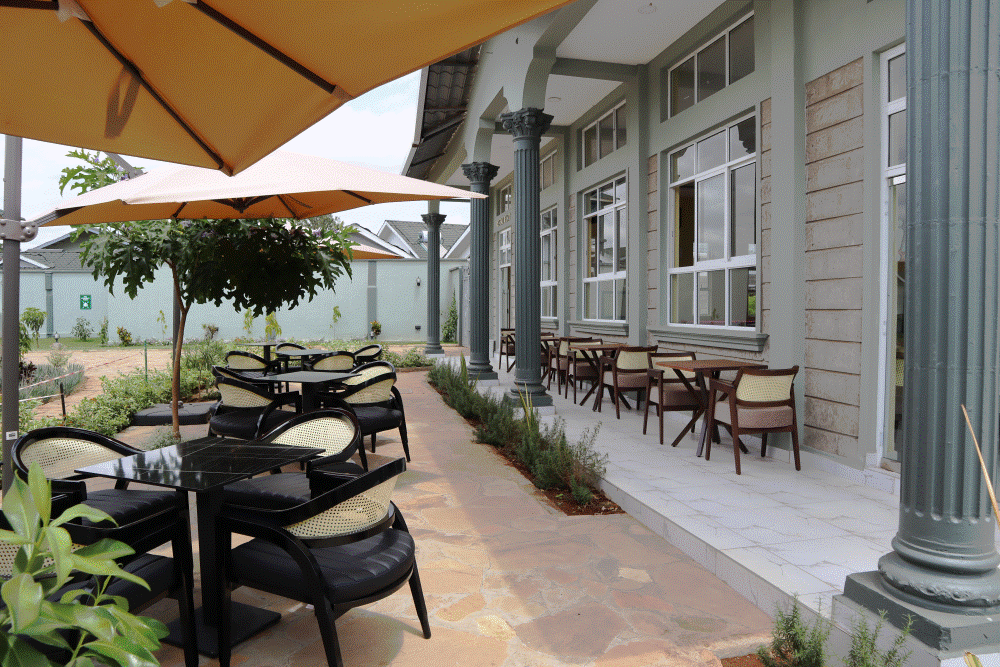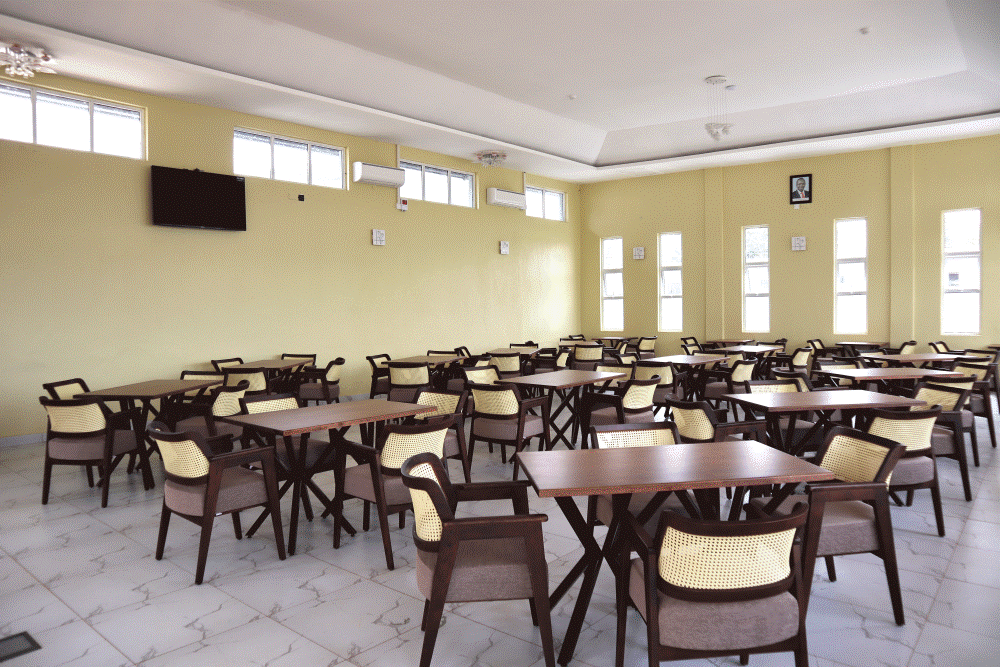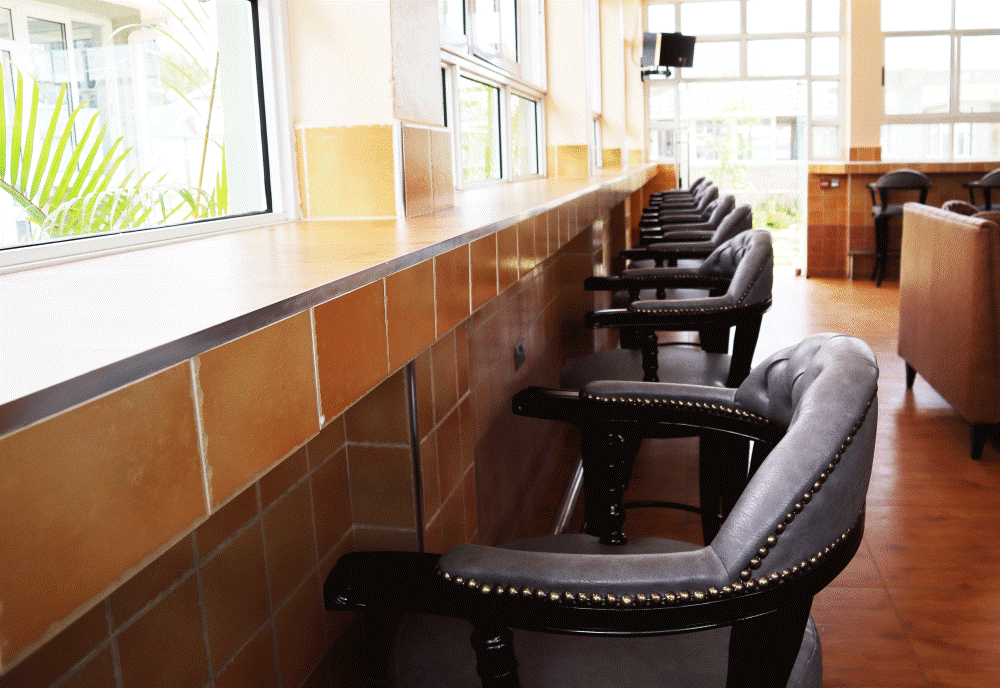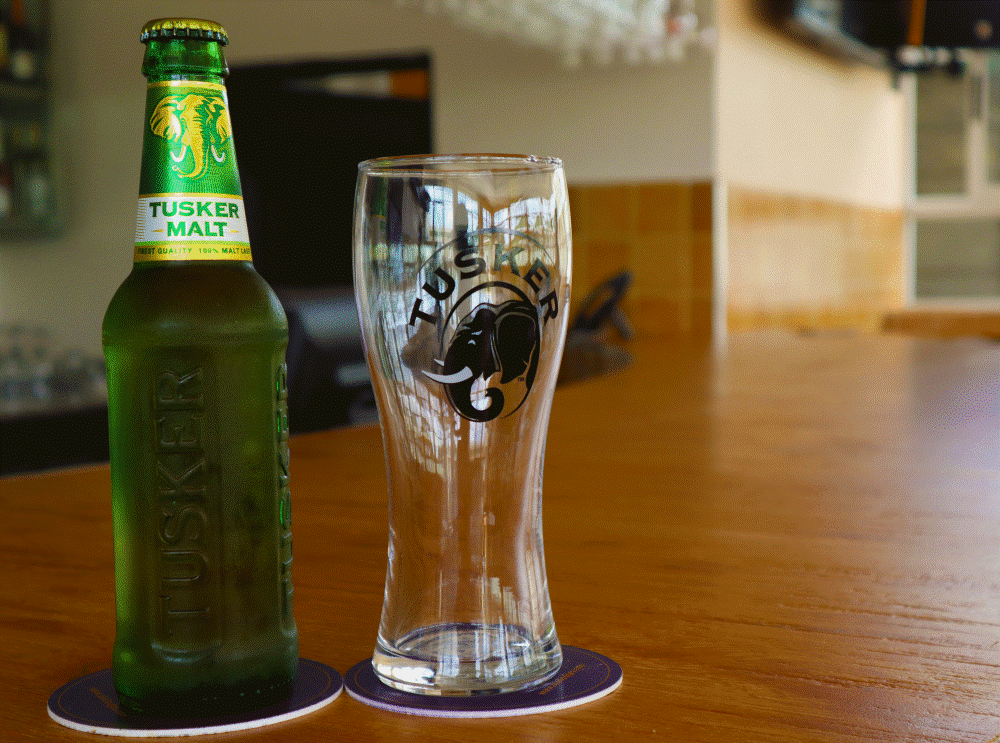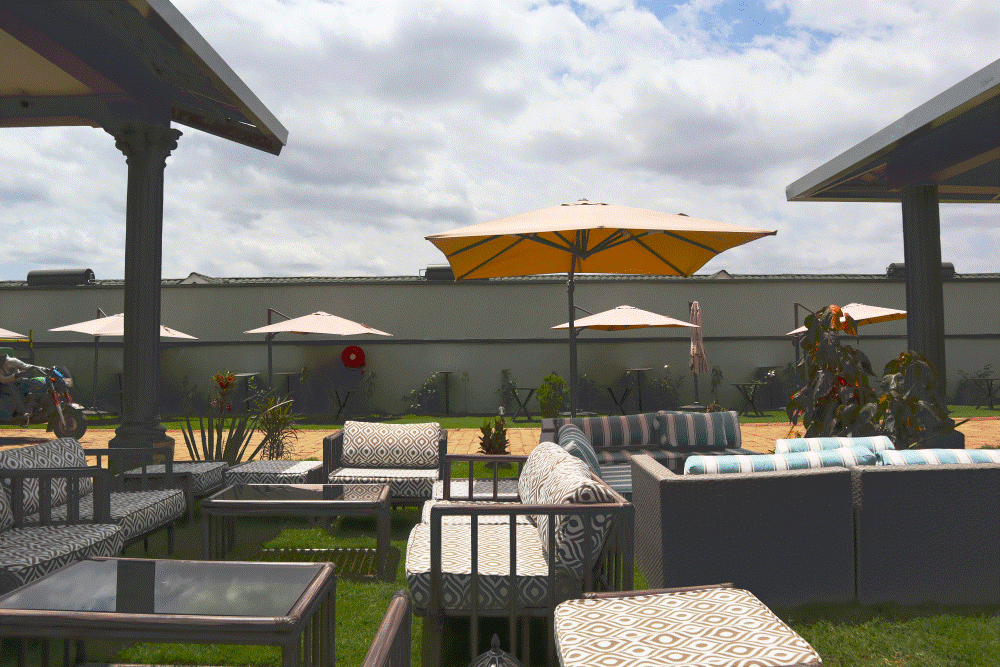 This, if you ask me, is proper identification of market gaps and giving variety and choice to the clients.
That you can choose whether you want some privacy or not, is a major score for me.
Conference Facility
Abai Lodges has a gigantic conference hall, that can can carry upto 300 guests in a simple row setting. Get in touch with them in case you want to book the hall so that they can tailor-make something that suits your conference needs. You will love the state of the art equipment in the hall, humongous display screens, flip charts, white boards and fast internet.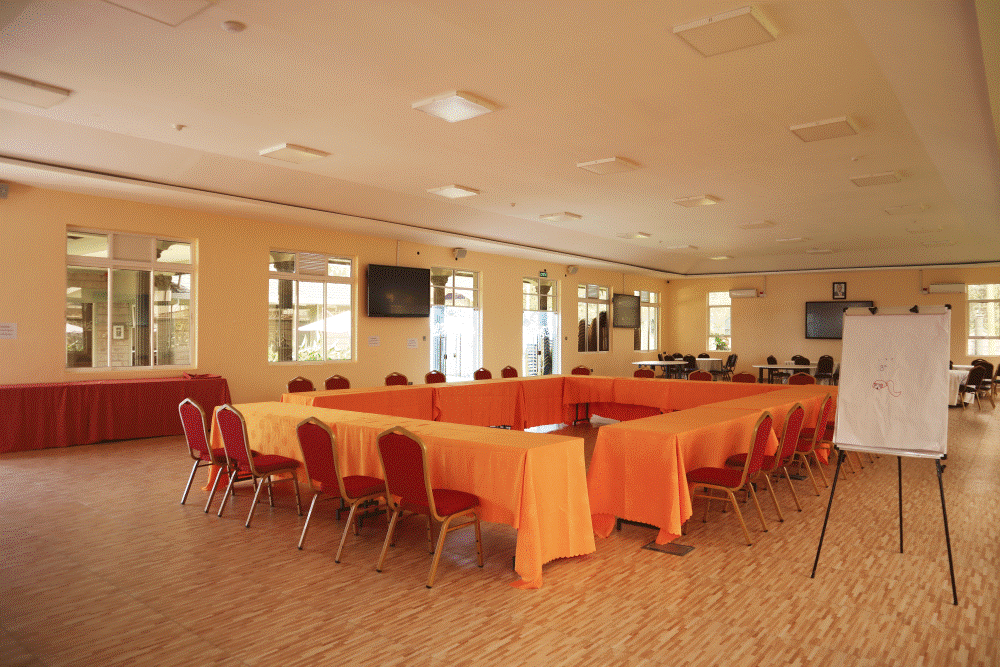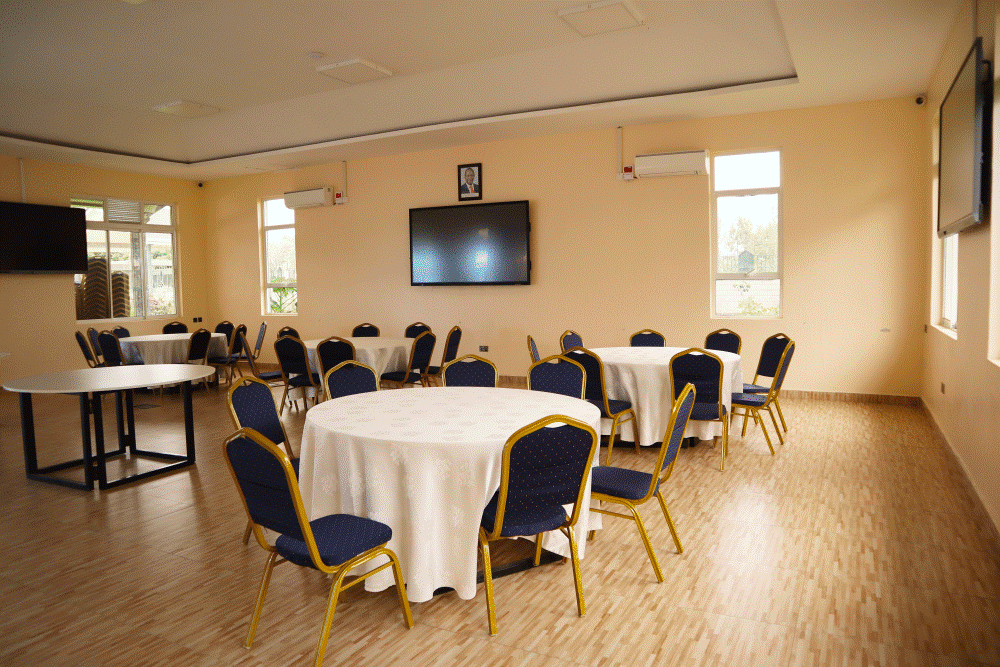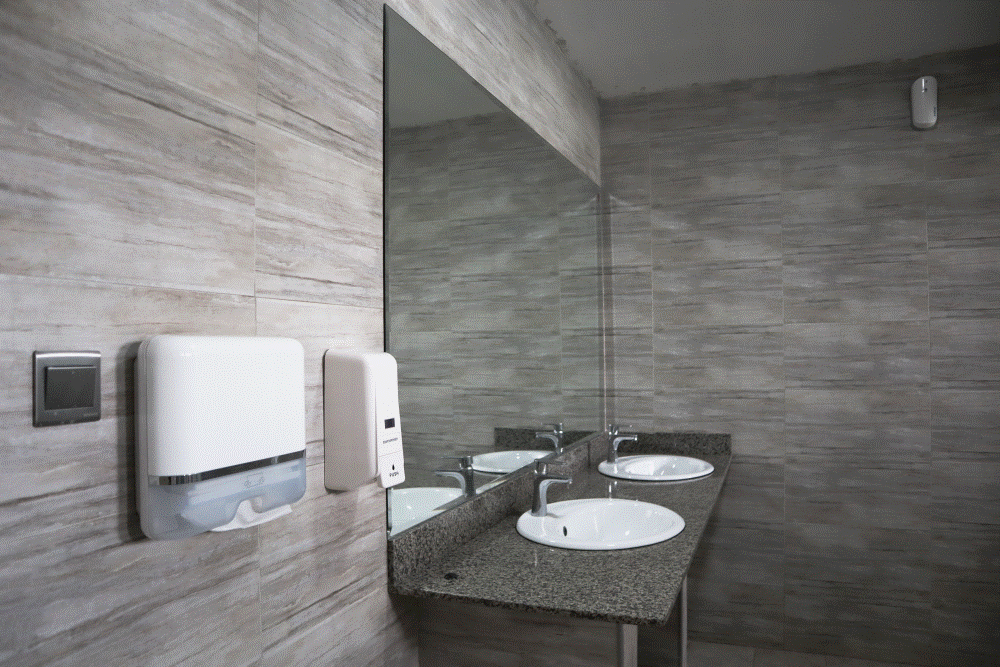 VIP Gardens
Incase you want to have a private meeting or gathering with friends out the public glare then the private VIP gardens is where you should book. The VIP gardens has comfy garden seats, and shaded with beige parasols in case the sun gets too hot. It has own fully stocked bar, the guests can play their music of choice, enjoy barbeque and go into the night as they keep warm from the bonfire pit in the middle of sitting area.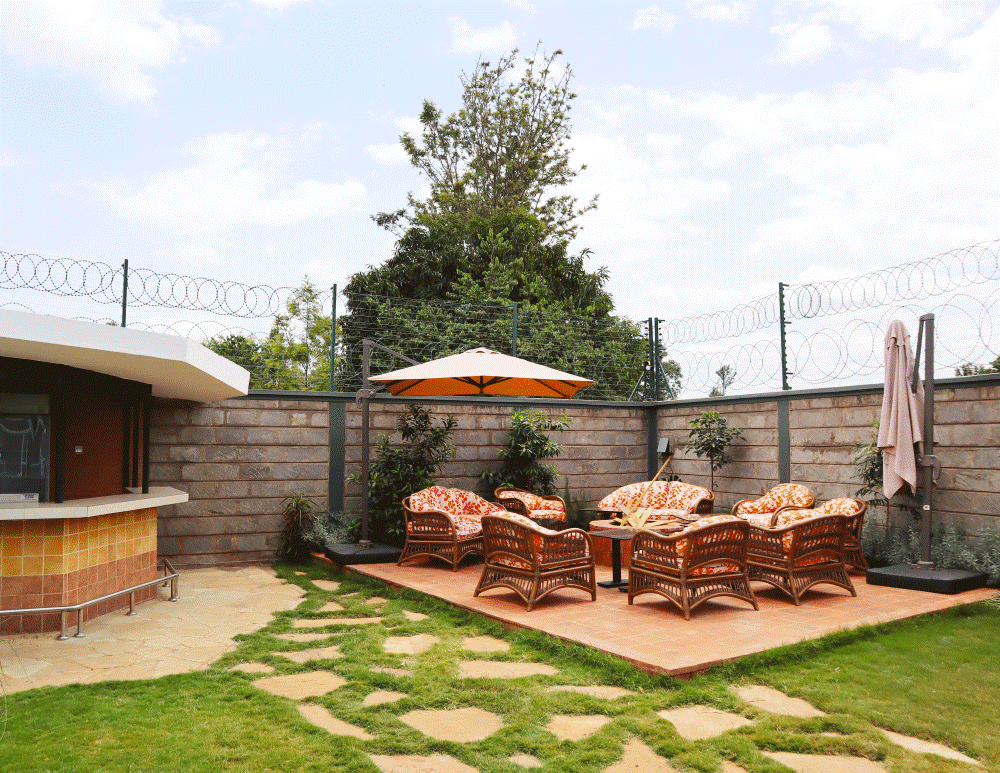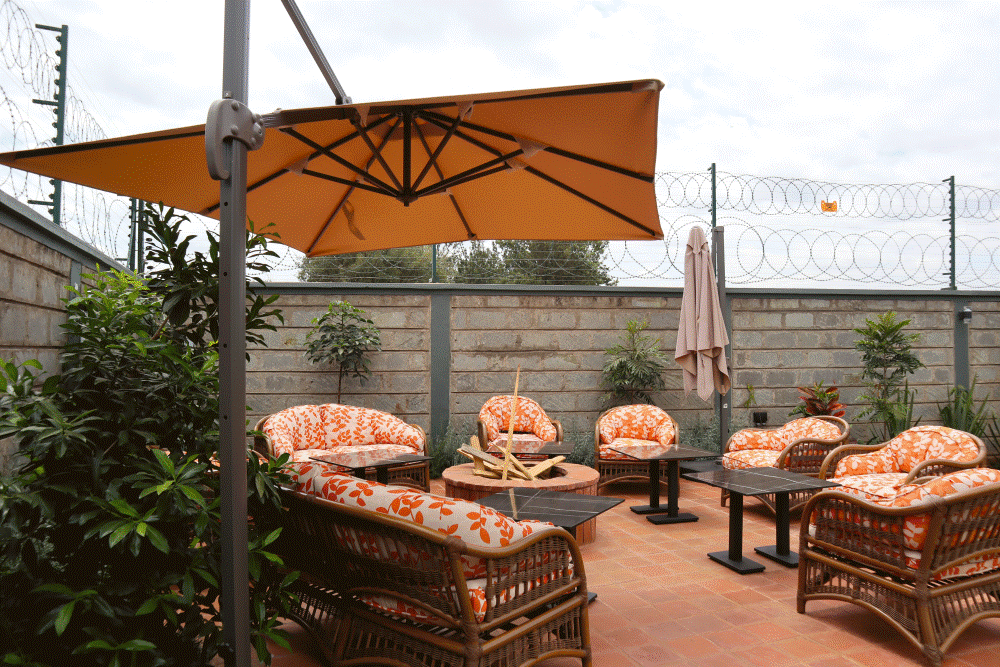 Finger licking food
Considering the location of the lodge, I was tempted to assume, that the cuisine would strictly be local; however this assumption was immediately busted when my eyes landed on the restaurant's menu. Grilled chicken breasts, Caesar salad, milkshake, dessert and any other meal you'd order from an uptown restaurant in Nairobi was in the menu.
I decided to go all in. I ordered for a Caesar Salad, for my starter, double breasted grilled chicken served with fries and veges for the mains, the finally, a milk shake with a slice of passion cake (I was really torn between passion and their black forest cake ) for dessert.
When the food came, I loved it. Presentation was skillfully done and it tasted as good as it looked!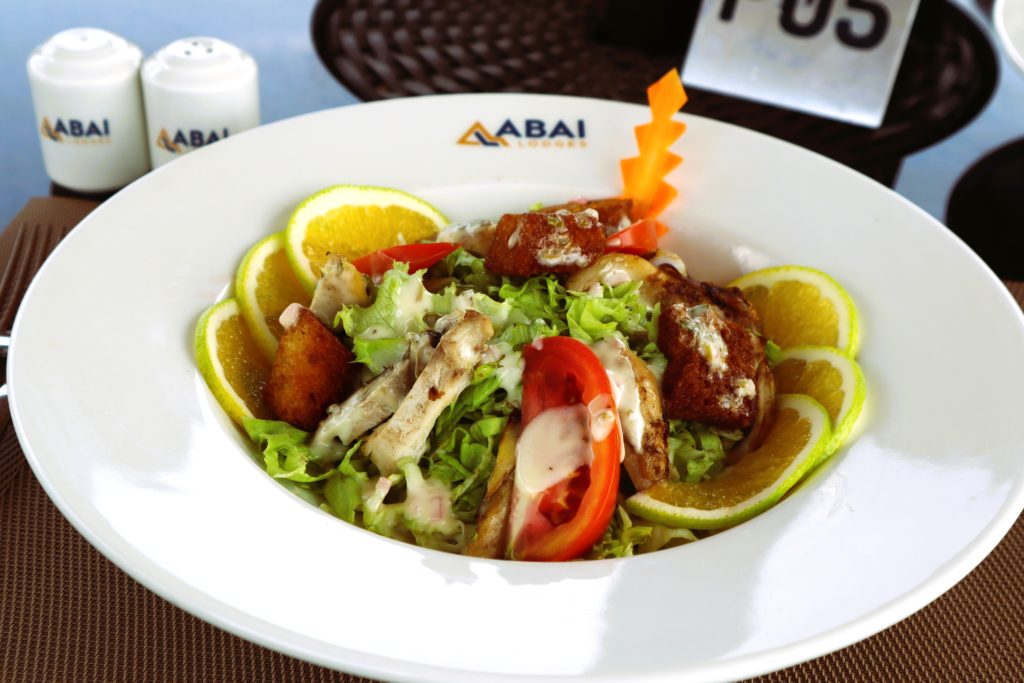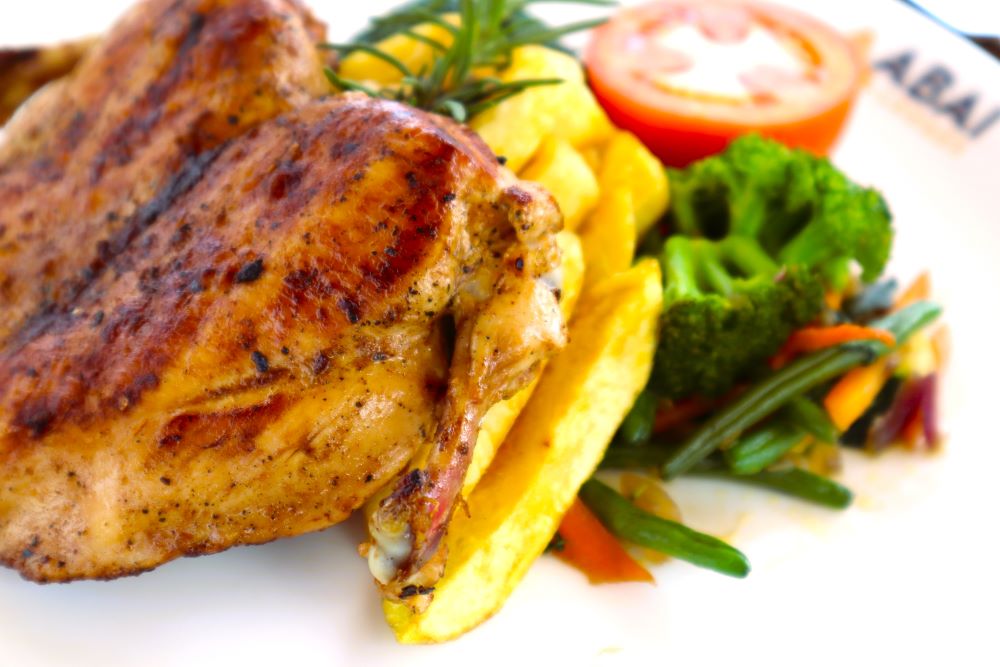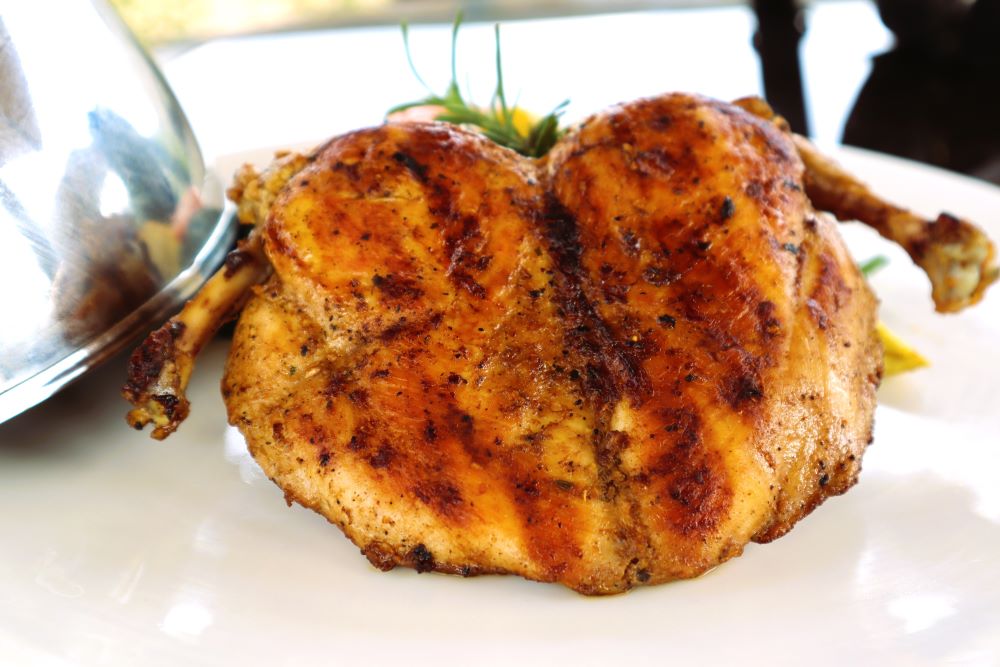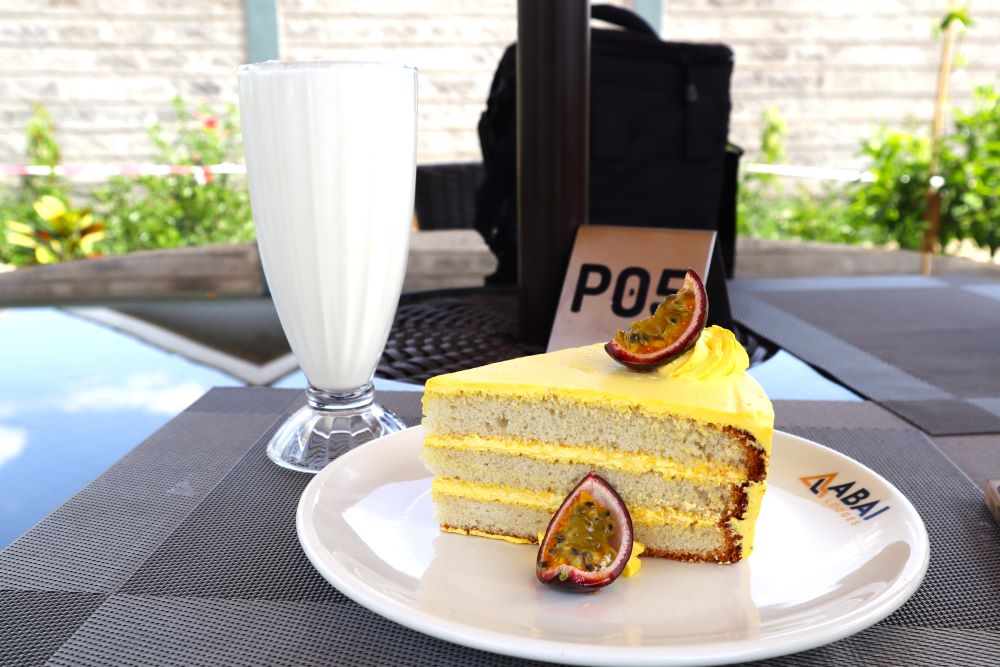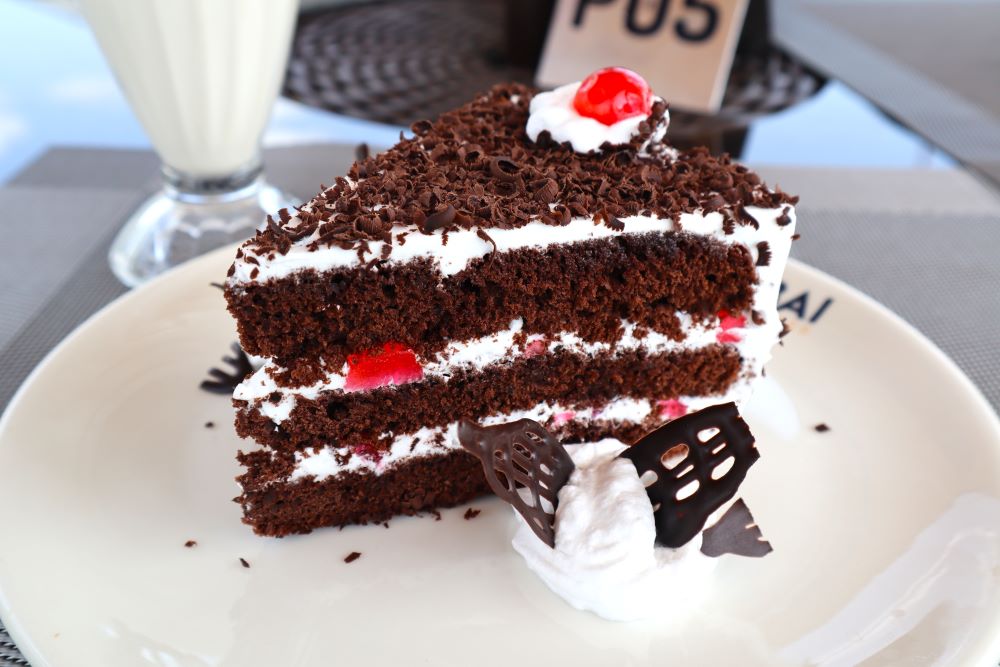 Safe to say, you can copy paste my order and enjoy the culinary goodness I experienced too!

Nothing beats a sumptuous meal, with a nice view of the pool and a cool Kagio breeze in the afternoon.
Relaxation and wellness
The realization that after a nice dip in the swimming pool, I could enjoy an evening in the sauna and later a nice Swedish massage almost made me jump with excitement!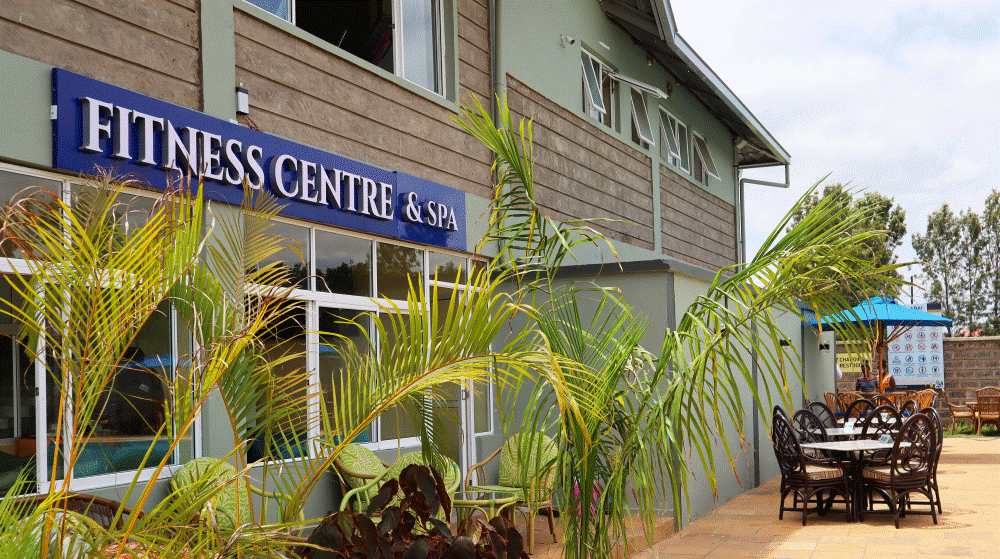 Abai lodges has an intimate sauna, a cooling room and a separate massage room that can be accessed by hotel residents and walk-in guests at a fee.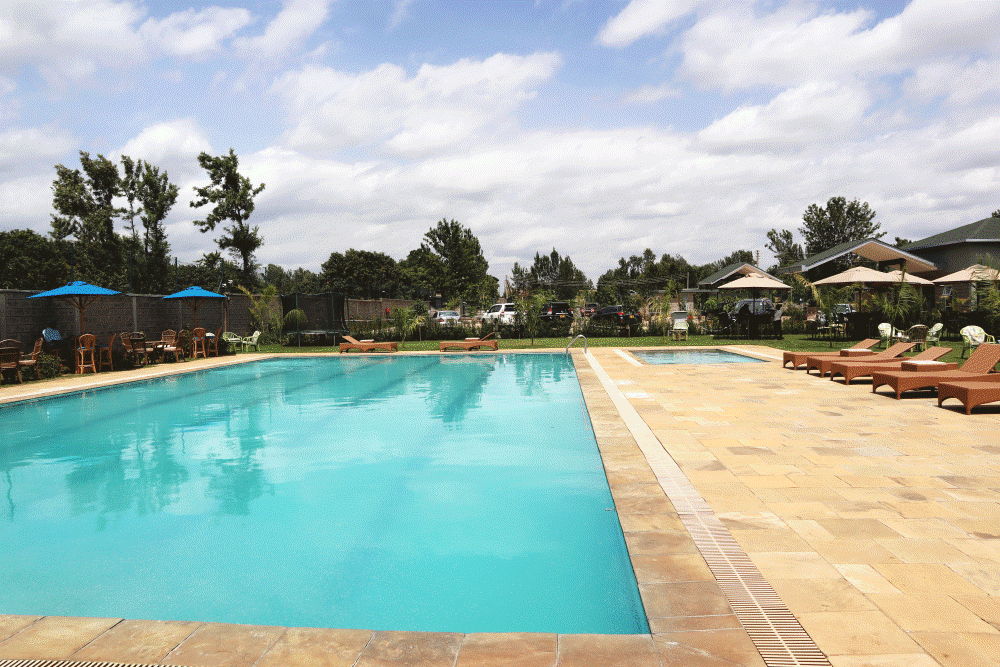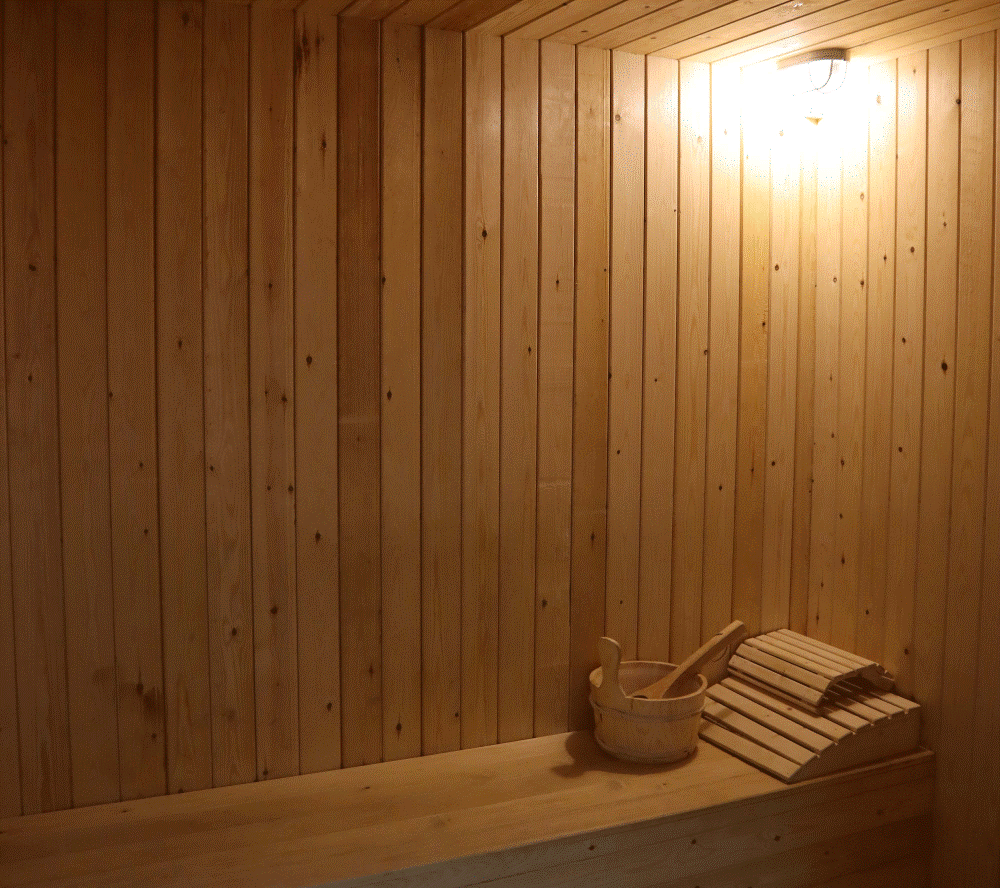 If you are a fitness junkie, you have not been left out. Abai lodges has a fully stocked gym that has a panoramic view of the entire property.Now you know, a small staycation out of town will not make you miss leg day!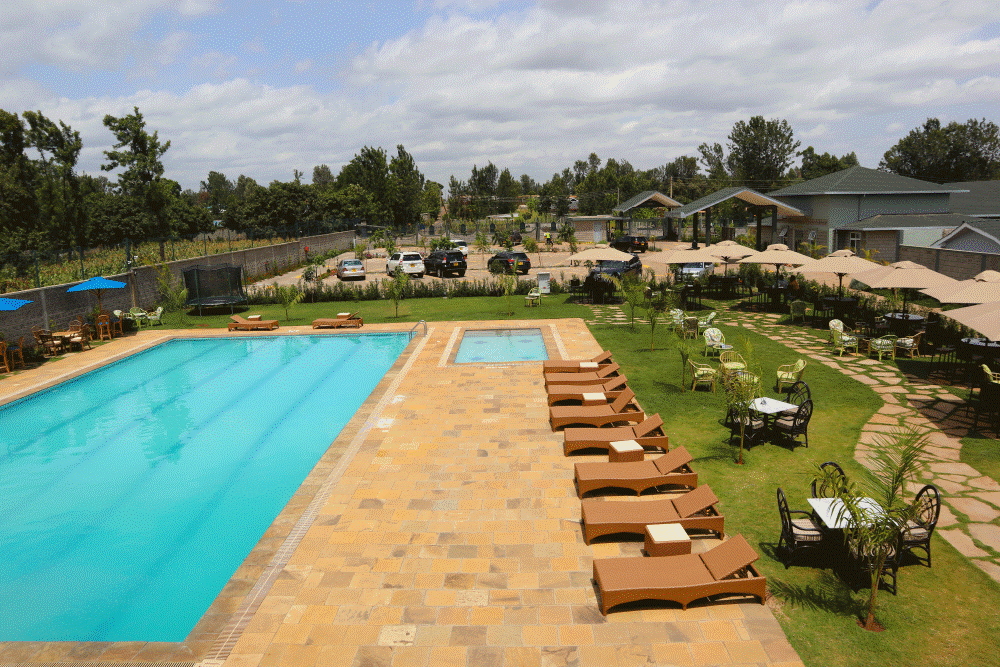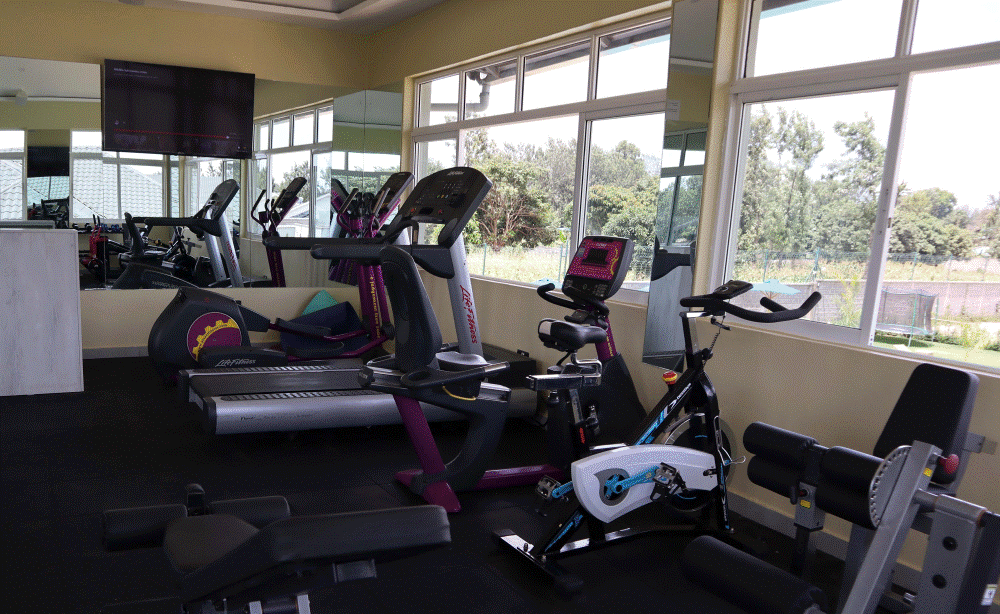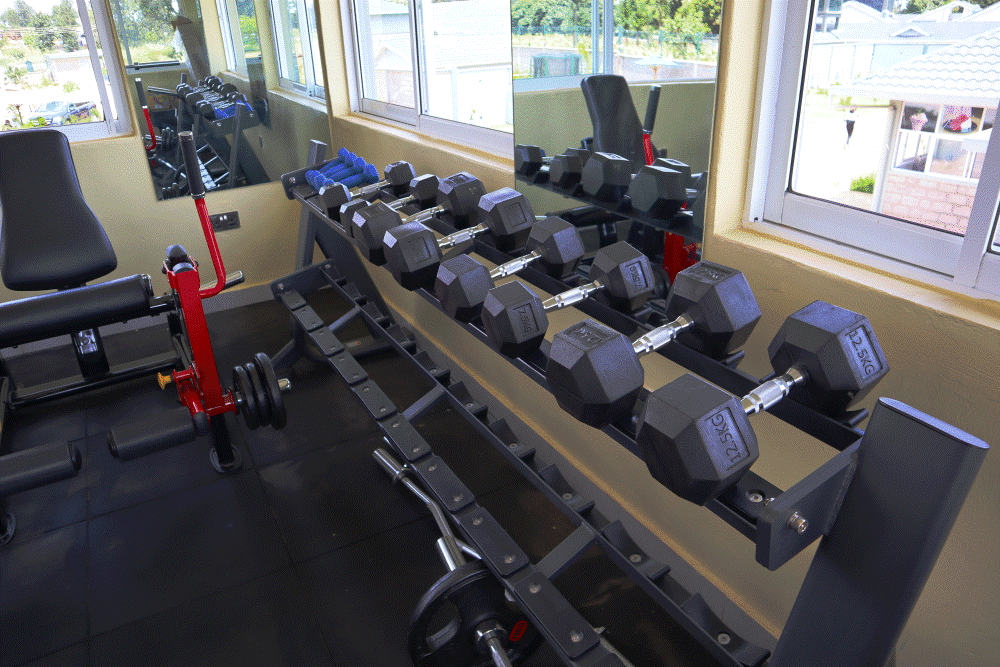 Upcoming Valentines weekend at Abai Lodges
If you are looking to spend a night at Abai Lodges this Valentines, and you love Mugithi and country music, then see the poster below for more details.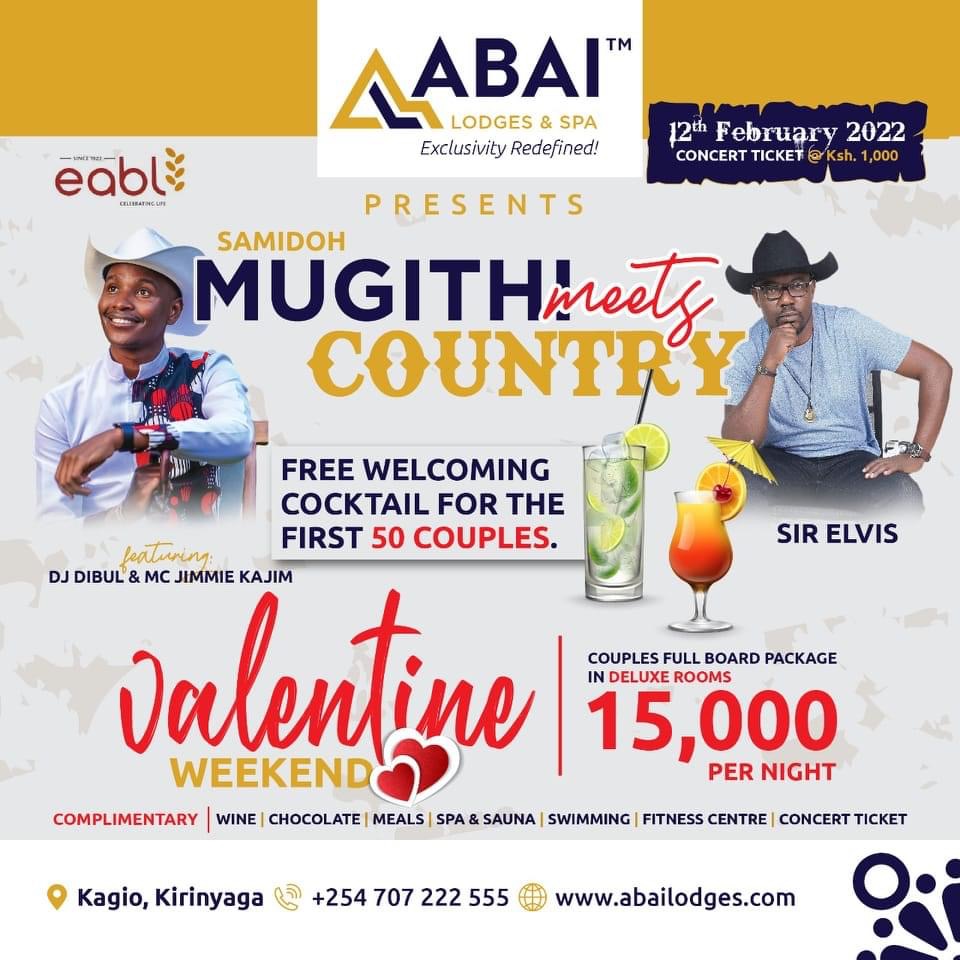 I hope to see you soon at Abai Lodges.
Click here to book your stay.
Call them on: +254 707 222 555 for enquires.
---