I travel a lot, and most of the time I find myself confined at an all-inclusive hotel with little to no time to explore my surroundings to check out the food scene. So, I decided to put up a post of top restaurants in Nairobi for those like me who hardly find time to scout around for nice joints, but once in a while would like to check out a cozy restaurant for a casual dinner date with friends or family.
This list constitutes some of the restaurants I have tried in Nairobi and I will be updating it over time. I would also like you to tell me your favorite restaurants and why they stand out. The reasons for choosing these restaurants were mostly ambiance, delicious cuisine good service, wait time, location, value for money.
I always say Nairobi has become one big restaurant and there are so many other dining options to choose from that offer everything between African, Western, European and Oriental Cuisine.
To help you begin unraveling the Nairobi restaurant scene start with this list.
1.Tamambo- Karen Blixen
Tamambo is located along Karen road with scenic views of the neighboring Karen Blixen Museum, Karen Golf and country Club. Newly furnished it still bears the warm Countryside feel of the original Karen Blixen farmhouse
Enjoy contemporary dining on the sitting area overlooking the terrace dotted with lush greenery, shrubs and blooming flowers. You can enjoy the eclectic tastes of the expertly prepared meals while listening to a live band playing.
2. About Thyme
From its inviting garden setting, delicately afro inspired hanging lights in the old school kerosene lamps, to the impressive food spreads, About Thyme is undoubtedly one of Nairobi's best-kept secrets. Located in the leafy suburbs of Westlands it offers the perfect setting for intimate dining.
The restaurant offers a wide range of delectable flavors both local and international cuisine. Their desserts are an absolute must-try while you take in the spectacular decor. They have special live Jazz bands on Thursday to ignite the soul! Its about Thyme for that date!
A garden, trees, rain, Aretha Franklin in the background served with hot tea and Veggie Samosas. Nice conversations followed by dinner, live Jazz and wine.???. @AboutThymeKE is a mood. pic.twitter.com/dsypIre27h

— Bonnie (@bonitaonsafari) April 26, 2019
3.The Node- Jacaranda.
The Node restaurant located in Westlands offers the laid back vibe with eccentric furnishing and minimalist décor. It has articulately landscaped gardens with shaded sitting providing the ideal spot for cozy conversations. The node serves an array of cuisines on-demand including African, Indian and Italian meals.
Again if you can, go treat yourself at @JacarandaKE Gym and Spa, then later cross the road and get a snack at the Node while listening to great music. City life can break your heart you need to thank your body somehow… pic.twitter.com/UbEGfHgF5P

— Bonnie (@bonitaonsafari) August 16, 2019
4. Art Caffe
Artcaffe's latest opening in areas such as Capital Centre, Kitengela and Karen, has charmed its way into the hearts of Kenyans. Merging it's signature café feel with modern hospitality trends with beautiful interior decor has made it more than a brunch spot. Indulge in smooth-talk, sipping a cocktail and munching on delectable pastries while the music drones away in the background.
It doesn't get better that having @ArtcaffeKenya at Capital Center Msa Road… It is super spacious! #ArtLife #NewArtcaffe pic.twitter.com/ggvXr5pwCO

— Bonnie (@bonitaonsafari) March 28, 2019
5.The Tavern
If outdoor dining is your idea if a perfect date, the tavern is your best pick. Located on Rhapta Road, Westland's The Tavern has an unrivaled ambiance. All through, subtle Swahili influences seep through its furnishing.
Potted shrubs line the walkways to the outdoor decks all the way to the rustic rooftop where you can have a hearty meal and relish the cool breeze. The setting is intentionally arranged to allow you intimate enough space.
6.Geco Cafe
The Geco Café tops the list for the ultimate scenic spot. Its stylish interiors and unique décor exude hip vibes.Its walls are painted with calm hues and lined with bookshelves and musical instruments.The intimate setting is perfect for a laid back night out surrounded by live bands belting out dreamy music and a starry sky on the deck.
If you've not been to Geco Cafe in Lavington you better head there…https://t.co/cFRgUrXCAG pic.twitter.com/hCRL8dbO1L

— Bonnie (@bonitaonsafari) September 2, 2017
6.Cj's
Cj's is quite the hype around town. Located in the heart of the City along Koinange street, the restaurant seems to have a life of its own. It is surprisingly serene judging by its location.
There are several sitting options with hues of turquoise and golden lighting fixtures to blending in seamlessly. Potted shrubs complete the contemporary feel of the restaurant.
The best part? You get the heaviest portions of your delicacy.
7.Fogo Gaucho.
If you and your date share a liking for meat Fogo Gaucho is your go-to Place.Sample the juiciest of steaks served with the choicest salads. Set to feel like you are in a steak house it majors in Brazilian cuisine with several other delicious options to choose from. Catch a live band as you sip a drink and have a good time.
8.Zen Garden
Enveloped in the beautiful lush greenery of Nairobi's Spring Valley, Zen Garden is the ultimate spot for a date. The Garden hosts two restaurants for you to choose from. First, the Bamboo Garden where you embark on a fine dining culinary adventure . Savor the eclectic tastes of Asian Cuisine while taking in the beauty of their elegant terrace.
On the other hand, The Jade Cafe infuses the warm feel of urban dining with top-notch hospitality.Relish the wide range of local and organic meals with alluring bakes and pastries an order away.
9.Gyros 2go
Looking for a quick fix to catch up with your date? Gyros 2go has got you covered. Priding itself in their signatures gyros and pizzas they guarantee you the most delicious wraps in the city. They serve Greek and Italian meals at notably affordable prices.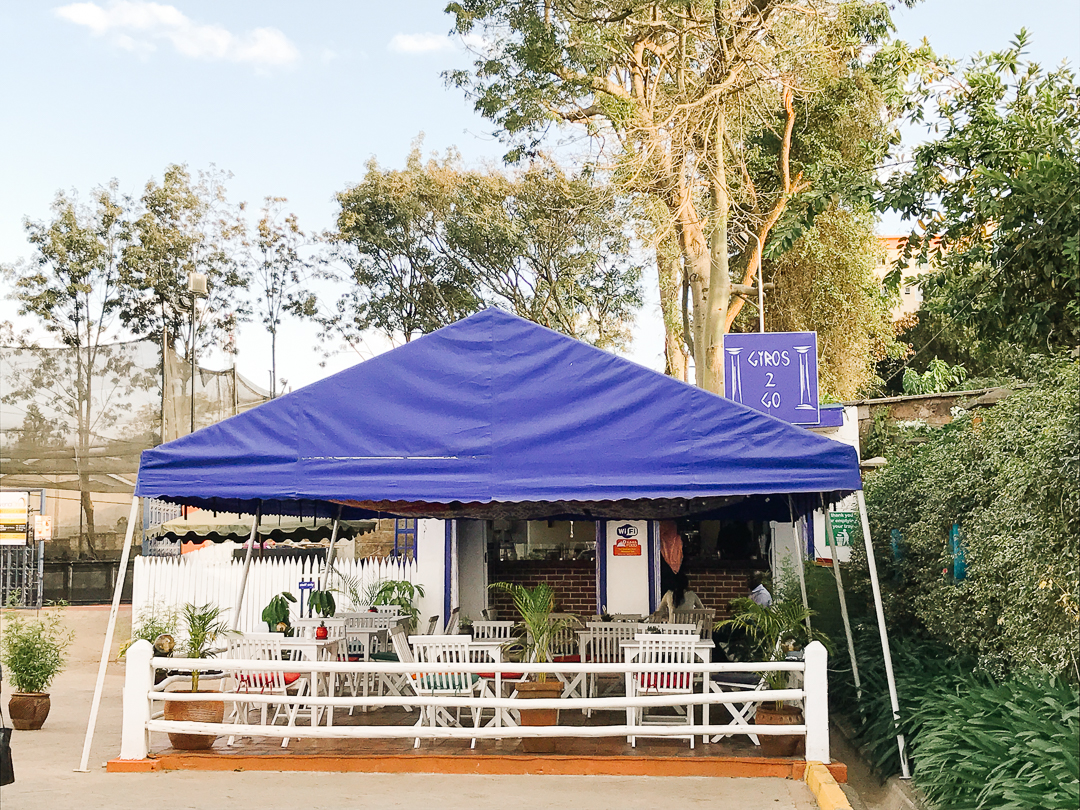 It has two locations in Westlands, Wood Vale groove and at Valley Arcade, Lavington.
There is this place at Valley Arcade called Gyros. This place has fire ? wraps. It is Chilled, easy, casual and has new beers ? you can experiment with…A wrap is 600 bob, a beer is 250 bob. You can catch a game as well as you eat. pic.twitter.com/chmvSNhraU

— Bonnie (@bonitaonsafari) January 19, 2019
10.Asmara
The Asmara runs a chain of restaurants in Westlands, Pangani and Karen. Infusing Ethiopian culture and Contemporary urban dining it offers quite the experience. The ambiance is awash with warm earth hues of finely shined furniture.
Tease your taste buds with the rich tastes of Ethiopian cuisine and a range of other meals. You can have a nice time in the plush interior or serene outdoors.
Now that you have a clue of some of the top restaurants in Nairobi….Head out and live it up!
NB: Some of the photos used belong to EatOut.com
---